A Peachy End to Summer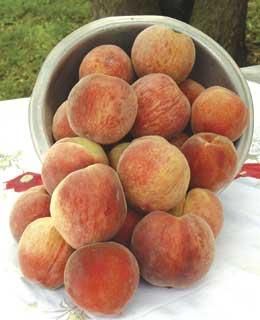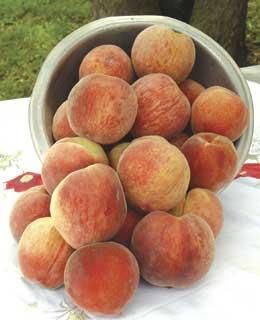 Looking for something deliciously sweet? Celebrate the end of summer with this peach tart recipe that is sure to be your most requested fruit treat.
With fall just around the corner, I'm greedily hanging on to a few of the flavors that have made my summer especially sweet. Could anything celebrate the glory of summer more than the fragrant, succulent peach?! Friends of ours planted peach trees this year, and I wondered why I was not doing the same. I imagined the feeling of harvesting fruit from my own trees for our morning oatmeal or for a grilled peach compliment to our summer barbecues. Peaches are a staple at our house all summer long, but this year has been especially peachy. Just as in our grandmother's day, several friends and I spent a sunny afternoon exchanging family memories of canning peaches and making jams and jellies. We smiled, imagining how we would savor their sweet deliciousness on some cold February day. My most requested fruit treat always seems to be my peach tart. Not only is it easy to prepare, but it's also a beautiful dessert to bring to a dinner party!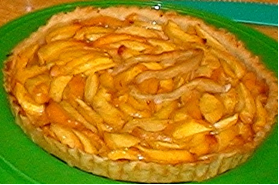 Peach Tart ~ A Slice of Summer
I. Preparing a basic Pâte Brisée crust
To a food processor, add:
1 ¼ cup all purpose flour
½ teaspoon salt
½ Tablespoon sugar
Quickly pulse to blend, then add:
1 stick of unsalted butter, extremely chilled, cut into 8 pieces
Mix till you get a crumbly dough and the butter is coated with flour and looks pea-sized, then carefully add ice water (not ice) slowly, just enough to make the dough come together in a ball.
Very important step: Remove dough & form a disc that you wrap in plastic wrap and refrigerate for 2 hours.
After the 2 hours is over:
Roll dough on a lightly floured surface till it is about 1 ½ inches larger than your tart pan.
Gently place into tart pan. (I use the rolling pin to roll it up and unfurl it onto the tart pan.)
At this point, I refrigerate the crust while I prepare the peaches.
II. Preparing the peaches
Preheat oven to 375 degrees.
Put 1.5 lbs of peaches in boiling water for 15 to 30 seconds, then put them right into ice water to stop the cooking (makes peeling them super easy)
When cool enough to handle:
Peel them
Slice into wedges
Place in a bowl
And add:
¼ cup Sugar and toss to coat peaches
½ Tbs lemon juice
For a special twist (optional)
Grind about ¼ cup almonds, very fine, and sprinkle 1/2 on the bottom of the crust. Sprinkle the other 1/2 throughout the peaches, as they are placed.
Finally:
Place the slices on the crust in a pretty circular pattern, filling in as much as possible. Fill generously, as fruit generally shrinks a bit while cooking!
Place it in a preheated 375 degrees oven for about 40 minutes, and look at it often while cooking to make sure it doesn't burn! (All tend to be a bit unique.)
III. After it is out of the oven
Apricot glaze (optional – until you try it, then you'll always want to use it!):
1/3 cup apricot preserves
Warm in saucepan till liquefied
Strain solids away
I have been known to occasionally add a ½ tsp of amaretto to the strained glaze. (Always add alcohol away from the flame.)
Gently brush on top of the finished tart while warm
Enjoy this slice of summer with family and friends!