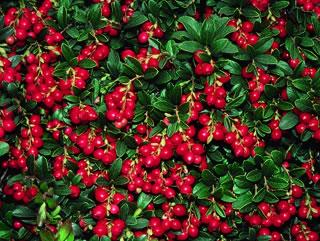 Have you ever heard of lingonberries?
People in Minnesota have known about them forever, you betcha! City girl that I am, I've known about them for quite some time thanks to the Swedish company IKEA.
There, you can buy the berry in every form imaginable as lingonberry concentrate, soda, jelly, jam and more… so I don't have to tell you they are delicious!
Anyone in zone 7 or cooler can grow lingonberries right in their backyard, thanks to Stark Bro's.
What are Lingonberries?
The lingonberry is a hardy perennial evergreen shrub, closely related to blueberries and cranberries, that grows 1&1/2 feet tall. It is widely found in the forests of northern Europe, northern America, and Canada. The berry is the size of a small blueberry, with small pink and white flowers, that starts off green and gradually turns red when ripe.
How to grow Lingonberries
Lingonberries like to be grown in acidic soil. The plants can tolerate some shade and are hardy to zone 2! It will take about 1-2 years before your lingonberries begin producing fruit, but it's worth the wait: you will get 2 crops, one in mid-summer (around July) and the second in late fall (thru November)! Their compact size makes lingonberry plants perfect for containers and window boxes. Plant them as a border plant 1&1/2 feet apart, in lieu of boxwoods, hollies or dwarf conifers. Lingonberry plants can also be used in place of of ground covers like vincas or varieties of sedum.
Uses for Lingonberries
Substitute lingonberries in any recipe that calls for blueberries or cranberries. They work well with all meats, too. Strain through a puréer and make juice, or turn them into jelly or jam to enjoy on toast! It is also possible to make wine and liqueurs with lingons. The high levels of benzoic acid give lingonberries a long shelf life when refrigerated. Lingonberries also have a variety of nutritional properties. They are high in Vitamins A, B & C and produce natural phyto-chemicals like antioxidants that help prevent heart disease and cancer.

For me and my family, the joy of gardening is found in the healthy varieties of fruits and vegetables we are able to grow in our edible landscape.
Enjoying the fruits of my labor,