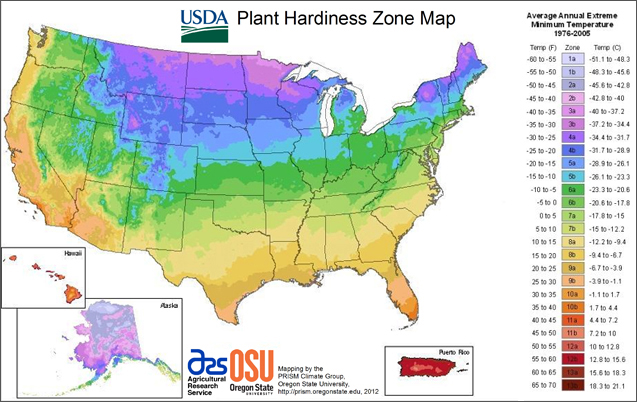 Hello to all you warm-zoned fruit growers!
I'm here today to put to rest a prevalent misconception. Today, with the help of our horticultural expert, Elmer, I will debunk the emotional pull of melting snow, warm breezes, flowers, birds, and bunnies! This very day, all you southern growers will leave knowing that FALL — not spring — is your time to plant. Have some doubts? Allow me to explain!
- "warm-zoned" refers to USDA Plant Hardiness Zones 6 – 10, which includes (but is not limited to) the eastern area south of the Mason-Dixon line, the southwestern states, most of California, and the coastal regions of Oregon and Washington.
The Bare Roots
It all starts with some basics of botany: roots. Roots are a plant's lifeline of nutrients, water and, ultimately, growth. For trees to receive the optimal benefits of this lifeline, their roots need to be securely established in the soil environment. This is very important, especially when the trees are young. Why? Because of the many extreme, and potentially destructive, weather conditions Mother Nature brings, such as biting cold, early frost, strong winds, extreme heat, and drought. Young trees are least likely to survive these unpredictable weather conditions, but their strongest defense is a firmly established root system.
And that, my friends, is the first reason to support fall planting! Says Elmer (our Chief Production Officer and horticultural expert here at Stark Bro's), fall weather conditions in zones 6-10 are ideal for planting and establishing new fruit trees. These same conditions are beneficial to helping a young fruit tree adapt quickly to its new location. With fall planting, a fruit tree is subjected to less "transplant shock" (i.e.- digging up from one location and replanting in another), and the rain/snow helps to settle in the soil around the tree. Even when the air gets cool, the soil remains warm and the roots of a young fruit tree will grow until the ground freezes. When spring rolls around and the trees are "waking up", their growth is not delayed by limited moisture or lack of nourishment from a start-up root system.
Why "Dormant"?
My second reason to encourage fall planting is dormancy. You've heard the word, but what does it mean and why is it important? Just like bears, trees have their own winter hibernation, when the plants' systems take a hiatus for a good winter's sleep. That's dormancy! And digging, moving, shipping, transporting, and re-planting are all activities best done when the trees have reached this hibernating stage.
Now, planting dormant trees is just as important in the spring as it is in the fall. The risk of spring planting is actually that wonderful, warming weather: the kind of weather that signals the trees to "wake up" and start growing again. Spring weather comes earliest to the warmer zones, so between the winter's frozen ground and your warming spring, you have a relatively short window to actually plant dormant trees. (The dangers of planting a non-dormant tree are the affects that sudden frost/severe weather may have on its green growth.)
However, fall planting gives you the perfect opportunity to get your trees in the ground while they're dormant – and they'll be dormant for several more weeks, at least! So plant those roots when the trees are asleep; allow the roots to firmly establish; and THEN, when the warm breezes and bird chirps tell of spring on its way, you'll have some very happy, albeit sleepy, trees.
The Best Part
And my last reason for promoting fall planting… is actually a personal one. Laziness. When all your neighbors are out there laboring away in that nice spring weather, you can just sit back, grab a drink and a good book, and relax in the sun! Your planting work is done, and you've got your whole spring and summer to look forward to beautiful blooms, new growth, and the delicious fruits of your labor. (Although I bet many of you will be doing more planting in the spring, too. Just a guess.
)
What To Plant?
If you're trying to figure out what to consider for fall planting, here are a few Stark Bro's suggestions — trees and plants perfectly suited for warm-zoned growing!
Apples (for every taste bud)
Berries (bushes and brambles)
Southern Blueberry Assortment
Southern Pears
Hosui Asian
And don't forget peaches, pecans, and exotic fruits (like figs and citrus) that are virtually staples of warm climates!