How to Espalier Fruit Trees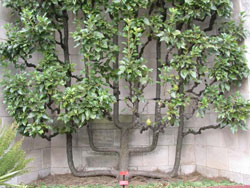 You don't have to be a Master Gardener to have beautiful espalier fruit trees in your own backyard. Depictions of espalier fig trees have been found on the walls of Egyptian tombs and throughout the art of the middle ages. But in the 21st century, espalier fruit trees are popping up more and more in the back yards of Americans.
The art of espalier is when trees and branches are pruned and trained to be on one plane. They're commonly found up against a wall or fence. Not only is the look a classic focal point in your landscape, but it helps to maximize your growing space. Espaliering can help keep your fruit trees in check while still providing you with a bountiful harvest. Implementing an espalier tree still requires maintenance throughout your growing season, but no more than any other backyard fruit tree.