Once upon a time, many years ago, people would grow asparagus for its medicinal properties and it was considered a delicacy. Today, asparagus is commonly available and a great source of vitamins and minerals. It also makes a great, and easy, addition to your backyard garden.
There are two common types of asparagus plants: green and purple (burgundy). Both types require the same care and maintenance and are commonly distributed as all-male plants as these are bigger and more suitable for eating. Green asparagus is found in grocery stores; both available fresh in the produce section and canned on the shelves. Purple asparagus is more tender and sweeter but rarely found in stores.
Here at Stark Bro's, our asparagus plants ship in packages of 10 bare-root crowns, dormant and ready to be planted when they arrive! If you are unable to plant when your asparagus plants arrive, we have some tips for ways you can delay planting here.
Varieties of Asparagus Plants:
1. Jersey Knight Giant*, which is a variety of green asparagus that produces extra-large spears (hence the "Giant" in the name). Jersey Knight Giant, like most green asparagus varieties, is quite vigorous.
*not to be confused with "Jersey Giant", which is a different variety
2. Mary Washington is another variety of green asparagus that is additionally disease-resistant to rust. It is highly productive like most green varieties of asparagus.
3. Purple Passion is a burgundy/purple variety of asparagus that features distinguished purple spears from the moment they break ground. They have a sweeter, more rich flavor when they are fresh, but the stalks will become green like most other asparagus once cooked.
Planting and Growing Asparagus:
The asparagus plants Stark Bro's carries are one-year roots (crowns), which require 2-3 more years to fully mature. For the first couple years, your plant will feature tiny asparagus-like sprouts that may be lightly harvested as the plant becomes established. Harvesting is easy — simply cut the shoots/spears just below the soil surface or just above the ground. The young spears are what get eaten most commonly because, once the buds along the shoots open, the plant will take on a fern-like appearance and become "woody" fairly quickly. Asparagus tends to be less appetizing once it reaches this point. In the first few years, as the plants become established and mature, a majority of the spears should be allowed to progress to the "fern" stage to gather nutrients to support future spear development.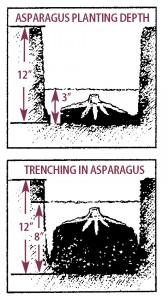 Asparagus grows as a perennial — a plant that sleeps in the winter and comes back in the spring. When it becomes dormant, you should cut exhausted plants (usually brown brittle ferns at this point) back to the soil surface and provide winter protection – like a layer of mulch or straw – to help avoid damage caused by deep-freezes or extreme changes in soil temperature. Mulch also helps keep weeds down during the growing season, which can otherwise be nutrient-competitors for your asparagus patch.
When we ship asparagus plants, they arrive as a package of 10 bare-root crowns. Each plant is a crown (top-center of the plant) with a long root system. There are many methods of planting asparagus (see a few examples at right), but remember that the crown remains toward the top of the planting hole.
Find out more about planting and growing your own asparagus, as well as caring for asparagus plants, in our Growing Guide Plant Manuals.
http://www.starkbros.com/blog/wp-content/uploads/2012/05/purpleasparagus_th.jpg