What to Do If You Can't Plant When Your Order Arrives
In fall or spring, planting trees and plants can be an invigorating adventure. When your Stark Bro's order arrives, it's best to be prepared to plant your new additions within a day or so. We understand, however, that sometimes you're simply not ready to put them in the ground right away. In this article, we focus on some tips on how to delay planting.
If the weather is unfavorable, or you don't have time or help to plant right away, still be sure to open the box containing your order.
Bare-Root Plants and Trees
When you open the package, you will see strips of damp paper around the bare-root plants and trees' roots. Make sure the paper remains damp, but avoid drenching it.
Wrap the bare-root plants and trees in the shipping plastic and store in a cool, dark place, like an unheated basement, cellar, garage or shed. It is ideal to store the tree at a temperature of 40ºF, but anything under 60ºF should work for a short period of time. This method will help keep your bare-root plants and trees dormant so you can safely delay planting for up to a week.
Heeling in Plants
If planting must be delayed for more than 10 days, "heel in" your trees outdoors. To do this, start by digging a sloping trench long and wide enough to hold the roots. Lay the tree in this trench, with the roots against the steep side. Then, cover the roots with soil, and soak with water. As soon as possible, plant trees in their permanent location as you normally would.
Small Bare-Root Plants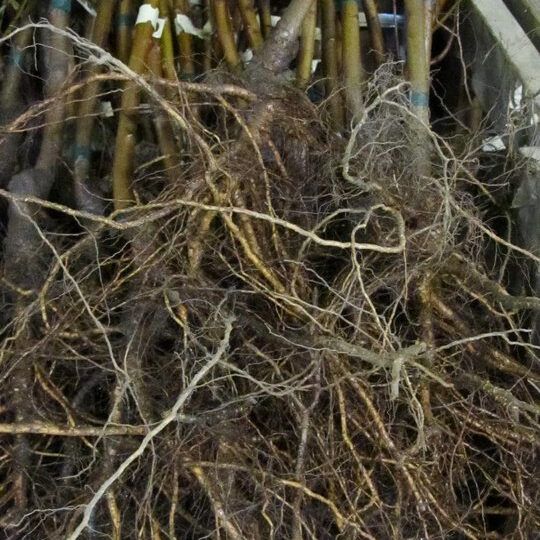 Small Bare-Root Plants
Some small bare-root berries and other plants can be stored in the lower section of your refrigerator or in the "crisper" drawer. Do not store them with produce unless your plants are completely sealed in plastic (in gallon-sized re-sealable bags, for example). To be extra cautious, you can double-bag your plants in the airtight plastic. Doing so will help avoid exposing your plants to the often lethal (to living plants) gases that are naturally given off by produce in your refrigerator.
Potted Plants and Trees
Plants and trees that arrive in temporary pots (like our Stark® EZ Start® pots and 4-inch pots) should be treated like houseplants until the outdoor soil warms. Water them occasionally, when the soil appears dry, and keep them in a cool, dark place to encourage dormancy, especially in the fall.
When planting time comes, these potted trees and plants will need to be gradually acclimated ("hardened off" or slowly reintroduced) to outdoor temperatures prior to planting in the ground. Doing so will help you to avoid shock and help to ensure the transplanting will be more successful.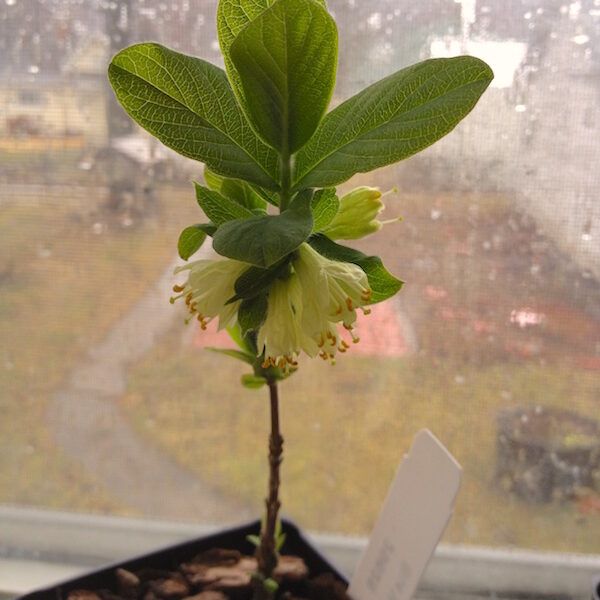 Learn how to acclimate your new potted plants and trees:
Tips for Planting in Winter Weather
If snowfall arrives or freezing temperatures set in when your order arrives, don't panic! Just follow these simple suggestions:
Scoop snow away from the planting site; you may find the ground is not frozen yet.
Remember that snow makes an excellent insulator; the extra moisture is good for plants.
Keep any frozen topsoil from falling into the planting hole around the root system.
Do not expose roots to below-freezing temperatures while planting.
If your order arrives in the spring, you might find that your soil may be frozen or otherwise unworkable. If this is the case, you should keep your tree or plant in the package until the daily temperatures are above freezing and the ground thaws.
Please note: you may plant, even if the low temperatures are in the high teens, as long as the daytime temperatures are above 40ºF. You can delay planting for up to two or three weeks if you are able to keep the roots from drying out. However, in cases where the delayed period is longer than a week, you should consider applying additional damp paper to bare-root tree roots to provide sufficient enough moisture for longer storage.
If you have any order-related questions or concerns, our Customer Support Team (800.325.4180) will be able to work with you.
Now that you know how to delay planting, there's no need to worry if you're not ready to plant right away. If you are facing inclement weather or other unforeseen problems, you can feel confident in your ability to safely store trees and plants for a short period of time until you're ready to plant outdoors.
Shop by State
Customize your plant selection based on your area's unique growing zones by exploring our top recommendations for trees and plants. Select your state to discover the best options.