The Honeycrisp Experiment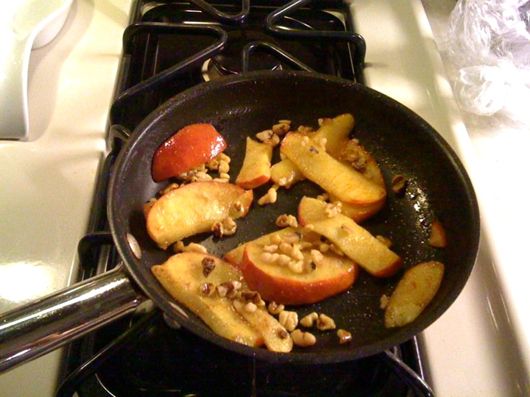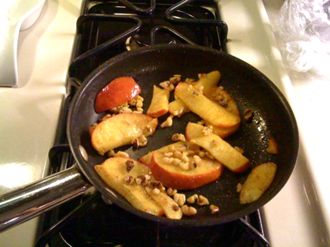 My Honeycrisp Apple Recipe
Ingredients:
1 to 3 Honeycrisp apples
1-3 T butter
handful of black walnuts
curry and cinnamon, to taste
1-3 T sugar
The Experiment:
Heat butter in skillet over medium heat
Wash and slice Honeycrisp apples
Toss apple slices in sugar, cinnamon and curry
Chop black walnuts to desired size
Lightly brown walnuts in heated butter
Add spice-laden apples to skillet
Cook until apples are heated and somewhat transparent (or to desired consistency)
The Result:
Eat straight from the skillet for a light and delicious dessert!
Use as a topping for any of the following: ice cream, pancakes, plain or vanilla yogurt.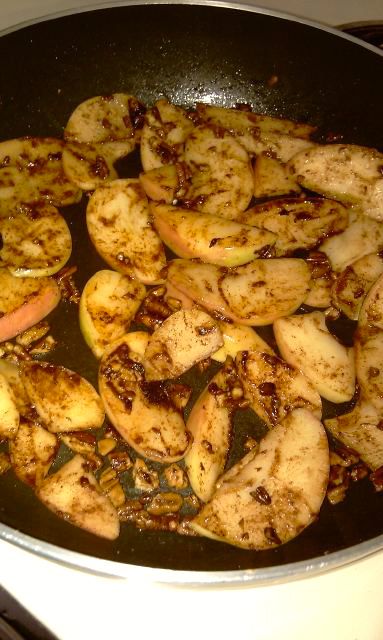 One of my dear friends decided to experiment with this Honeycrisp apple recipe, with a few modifications to his own. He eliminated the curry and used pecans in lieu of black walnuts. I'm thinking of making a second batch, this time leaving out the curry and tossing clove and shaved orange peel in the mix. What about you? What sort of tastes and smells are coming from your kitchen this fall?
— Meg C.
---
I realize fall began on September 22nd this year (2010), but for some reason October feels more "officially" like autumn. Maybe it's because most of September is actually still summer! Whatever the reason, the temps have been dipping into the high 30's, and the days are hovering in the 60's and 70's. Nature is saturating my senses with fall smells, and in the true spirit of the season, I finally added my own: cooked apples! Not one to follow many recipes, I took to the kitchen this weekend for some creative experimentation. I'm a fairly healthy eater, i.e. — low fat, more fruits and veggies, whole grains, organic, homegrown, etc. Every once in a while, I get this insatiable urge for something sweet. And what did I have on hand? 3 Honeycrisp apples, black walnuts, and some spices. Admittedly, I was craving something even sweeter than apples, but that's what I had, so! Here's the final result: