Frequently Asked Questions
Available Tree Options
| | |
| --- | --- |
| Q: | What makes a supreme tree different from a regular tree? |
| | |
| --- | --- |
| A: | One of our regular trees ships to you approximately 3-4' tall with a 3/8" or larger trunk diameter. A Stark Supreme Tree® is a larger, upgraded version of a regular tree that will give you a head start on growing — it ships to you approximately 4-5' tall and/or with a 5/8" or larger trunk diameter. |
| | |
| --- | --- |
| Q: | What makes a Supreme EZ Start® tree different from a regular EZ Start® tree? |
| | |
| --- | --- |
| A: | The Supreme EZ Start® trees are upgrades that will give you a head start on growing. While our regular EZ Start® trees are approximately 1-2' tall when shipped to you, the larger, top-grade, Supreme EZ Start® selections are approximately 3-4' tall when shipped to you. To learn more about our exclusive, award-winning EZ Start® bottomless pots, visit our glossary of terms. |
Bare-Root Trees & Plants
| | |
| --- | --- |
| Q: | What does "bare-root" mean? |
| | |
| --- | --- |
| A: | A bare-root tree is a tree without soil. When these trees are dug, they are in a dormant (resting) state, and all soil is removed from the root system before storing and shipping. We use this method of harvesting and handling trees to help ensure good contact with your garden soil, which allows the tree to establish itself well. These young trees will arrive without any apparent green growth but will spring to life during the growing season. To learn more about bare-root trees, visit our glossary of terms. |
| | |
| --- | --- |
| Q: | What tree size should I choose? |
| | |
| --- | --- |
| A: | It is essential that you choose the right size for your space. Whether you're planting an acre, a suburban yard or a small urban plot, we've got the perfect size tree for you. When they mature, they will be one of three sizes: |
Dwarf

Matures to be about 8-10' tall and wide. Provides an abundance of full-size fruit in a minimal amount of space.
Semi-Dwarf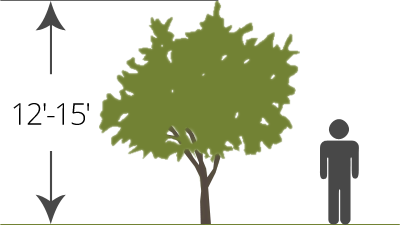 Matures to be about 12-15' tall and wide. Gives maximum fruit yield per square foot. Most of the fruit can be harvested while standing on the ground.
Standard & Unmarked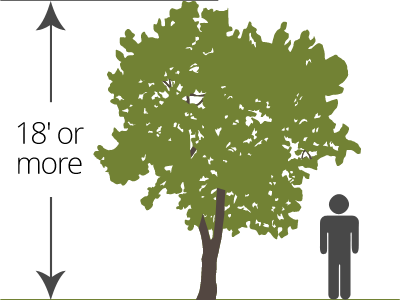 Matures to be at least 18' tall and wide. (Standard peach and nectarine trees mature to be 12-15' tall and wide.) A multi-purpose fruit and shade tree.
---
| | |
| --- | --- |
| Q: | Which is better, bare-root or potted trees? |
| | |
| --- | --- |
| A: | Each has its own advantages: |
Bare-Root Trees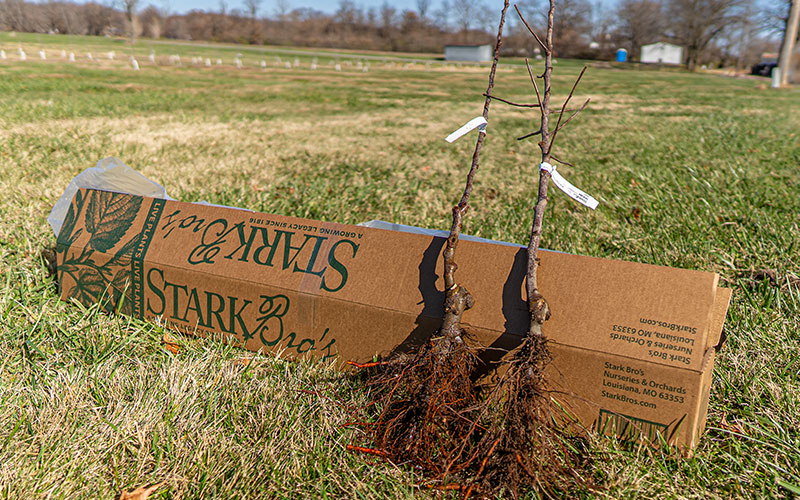 Trees that are shipped without soil to ensure good contact with soil in your yard. When shipped, they are about 3-4' tall and/or with a 3/8" or larger trunk diameter.
Stark Supreme Tree®
This season's top-grade, bare-root trees that give you a head start on growing. When shipped, they are about 4-5' tall and/or with a 5/8" or larger trunk diameter.
Supreme XL Trees
We don't call them "XL" for nothing! Supreme XL trees are our biggest and most robust bare-root trees: they ship 5-6' tall with a 1" or larger trunk diameter.
---
Potted Trees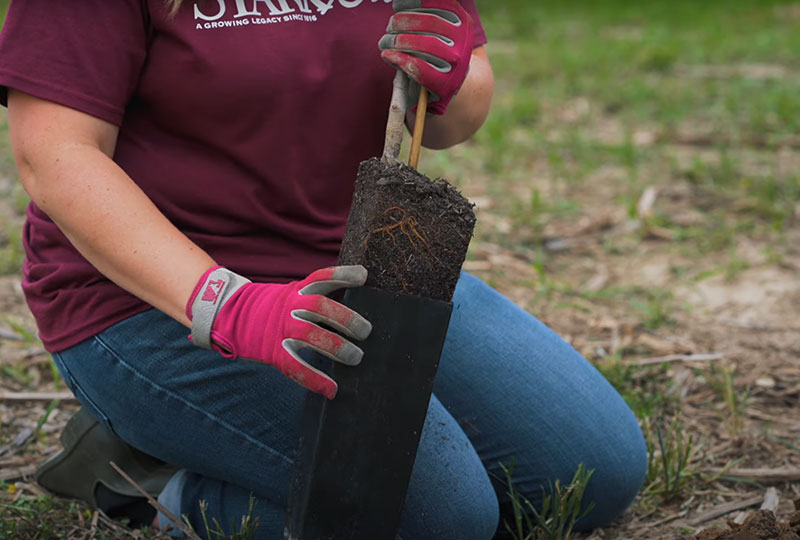 EZ Start® Potted Trees
Trees are grown in a bottomless 4x4x10" pot, which encourages dense feeder-root growth for a quick, strong establishment. When shipped, they are about 1½ - 3' tall.
Supreme EZ Start® Potted Trees
Top-grade trees are grown in a bottomless 5x5x12" pot, which creates an advanced root system. When shipped to you, they are about 3 - 4' tall.
Supreme XL Potted Trees
Our biggest and most robust potted trees. Grown in a 9x9x12" pot filled with high-grade soil, these trees are even larger than our Supreme EZ Start® trees. When shipped to you, they are 4-5' tall.
Our 7 Gallon version of these trees are also shipped to you 4-5' tall, but they are grown in even larger pots that allow the trees to develop a massive root system.
Grow Bag Trees
Trees shipped in our 1 gallon grow bags arrive in a 5x5x12" felt aeration bag. Bag must be removed before planting.
Trees shipped in our 5 gallon grow bags arrive in a 11x10¼" semi-degradable fabric root pouch. Bag must be removed before planting.
---
Gift Options
| | |
| --- | --- |
| Q: | Does Stark Bro's offer gift certificates? |
| | |
| --- | --- |
| A: | Yes. A Stark Bro's gift certificate makes a great gift for family or friends. Each one comes with our latest catalog and a letter that explains how to redeem the certificate. Gift certificates are available to order on our website or by contacting our customer support team at 800.325.4180. |
Growing
| | |
| --- | --- |
| Q: | How long does it take for my trees to bear fruit? |
| | |
| --- | --- |
| A: | That will vary from one genus/species to another, and sometimes from one variety to another. In most cases, it will likely take several years. Stark Bro's trees are one to two years old when shipped. "Years to Bear" begins counting after the trees are transplanted in your growing space. |
| | |
| --- | --- |
| Q: | What is my hardiness zone? |
| | |
| --- | --- |
| A: | The USDA Hardiness Zones will guide your choice of what to plant in your particular climate. Each zone corresponds to the minimum average winter temperatures recorded in a given area. Zone information is included in the description of each tree or plant sold by Stark Bro's. Try our handy Hardiness Zone Finder on our website to look up your zone and find compatible products for your location. |
Planting
| | |
| --- | --- |
| Q: | Why should black raspberries be planted away from other berries? |
| | |
| --- | --- |
| A: | Black raspberries should not be planted within 75-100 feet of other raspberries. Black raspberry plants may be susceptible to viral diseases carried by aphids from nearby raspberry plants |
Pollination
| | |
| --- | --- |
| Q: | Why does my tree or plant need a pollinator? |
| | |
| --- | --- |
| A: | Unless your tree or plant is self-pollinating, cross-pollination by a different variety in the same species, which has a similar bloom time, is key to its growing and bearing success. In most cases, the absence of a compatible pollinator is why a tree won't produce fruit. An apple tree cannot pollinate a pear tree, and an early-blooming apple cannot pollinate a late-blooming apple, but two different apple varieties that both bloom mid-season will serve as good pollinators for one another. |
| | |
| --- | --- |
| Q: | How close does a tree need to be in order to serve as a pollinator? |
Pruning
| | |
| --- | --- |
| Q: | Why do I need to prune my tree? |
| | |
| --- | --- |
| A: | The survival, stimulation and shaping of your tree depends on proper pruning. For those reasons, we take pruning seriously, and so should you! All bare-root trees from Stark Bro's are professionally pruned just before they are packaged and shipped to you. Once you have transplanted the tree in your yard, you should continue pruning on your own at least once per year. See our blog post Successful Tree Pruning to learn more and get some pruning tips from professionals. |
| | |
| --- | --- |
| Q: | When is the best time to prune? |
| | |
| --- | --- |
| A: | Choosing when to prune your tree depends largely on your location. In warmer parts of the country, it is best to prune in late fall or early winter. In colder parts of the country, it is best to wait until the coldest weather is over before pruning. In the northern regions, late winter is a very popular time for pruning. |
Payment
| | |
| --- | --- |
| Q: | What forms of payment are accepted? |
A:
We accept all major credit cards, debit cards and PayPal for online purchases. You can also pay by credit card via phone by calling 800.325.4180, Monday through Friday, between 8am-4:30pm (CST). If you would like to mail a check or money order, you may send it to:
Stark Bro's Nurseries & Orchards Co.
PO BOX 1800
Louisiana, MO 63353
| | |
| --- | --- |
| Q: | How much time do I have to pay for my order if I mail a check? |
| | |
| --- | --- |
| A: | You have 30 days. If payment is not received within 30 days of placing the order, the order will be canceled. |
| | |
| --- | --- |
| Q: | How can I change the payment method on an order? |
| | |
| --- | --- |
| A: | For your convenience, you can change your payment method online by signing in to your account and traveling to the Make a Payment section. You may also call 800.325.4180, Monday through Friday, between 8am-4:30pm (CST) to change the payment method on an order. We do not store your credit card information in your account. |
Shipping
| | |
| --- | --- |
| Q: | When do trees begin shipping? |
| | |
| --- | --- |
| A: | We begin digging and shipping the majority of our fruit trees when they have reached a hibernating stage (called dormancy). Planting a tree during this stage will help to protect it from sudden frost, severe weather and other potential dangers that can threaten a non-dormant tree. For most of our varieties, we recommend planting your dormant tree in fall, which will allow roots to settle in, gain establishment and wake up healthy the following spring. For additional information, see our order and shipping policies. |
| | |
| --- | --- |
| Q: | Can I delay the shipping of my order? |
| | |
| --- | --- |
| A: | Of course. If you would like us to ship your order at a different time, please contact our Customer Support Team at 800.325.4180. We would be glad to help you find a more convenient shipping date. |
Orders
| | |
| --- | --- |
| Q: | What if I need to cancel my order? |
| | |
| --- | --- |
| A: | Please call our Customer Support Team as soon as possible after placing the order. Cancelations cannot be processed once an order has gone to Shipping. |
| | |
| --- | --- |
| Q: | What do I do if I can't plant when my order arrives? |
| | |
| --- | --- |
| A: | We understand that it's not always possible to plant immediately when your order arrives. If the weather is unfavorable, or you don't have time or help to plant right away, still be sure to open the box containing your order. Here are some tips for how to delay planting your trees and plants: |
Bare-Root Trees and Plants: When you open the box, you will see strips of damp paper around the roots. Make sure the paper remains damp but avoid drenching it. Wrap the bare-root plants and trees in the shipping plastic and store in a cool, dark place (like an unheated basement, garage or shed). Ideally, you should store the tree at a temperature of 40℉, but anything lower60℉ will work for a short period of time. This method will help keep your bare-root plants and trees dormant, so you can safely delay planting for up to a week. If planting must be delayed for more than 10 days, "heel in" your trees outdoors. To do this, start by digging a sloping trench long and wide enough to hold the roots. Lay the tree in this trench, with the roots against the steep side. Then, cover the roots with soil, and soak with water. As soon as possible, plant trees in their permanent location, as you normally would.
Small Bare-Root Plants (e.g., strawberries, asparagus and rhubarb): Some small bare-root berries and other plants can be stored in the lower section of your refrigerator or in the "crisper" drawer. Do not store them with produce unless your plants are completely sealed in plastic (in gallon-sized resealable bags, for example). To be extra-cautious, you can double-bag your plants in the airtight plastic. Doing so will help avoid exposing your plants to the often lethal (to living plants) gases that are naturally given off by produce in your refrigerator.
Potted Plants and Trees:Plants and trees that arrive in temporary pots (like our EZ Start® Potted Trees and 4-inch pots) should be treated like houseplants until the outdoor soil warms. Water them occasionally, when the soil appears dry, and keep them in a cool, dark place to encourage dormancy, especially in the fall. When planting time comes, these potted trees and plants will need to be gradually acclimated ("hardened off" or slowly reintroduced) to outdoor temperatures prior to planting in the ground. Doing this will help ensure successful transplanting. Learn how to acclimate your new potted plants and trees here.
| | |
| --- | --- |
| Q: | My plants were wilted upon arrival. Are they dead? |
| | |
| --- | --- |
| A: | During their shipping journey, our trees and plants travel in a dark box for two or more days and are likely exposed to extreme temperatures. Wilting is a normal way for trees and plants to conserve energy when exposed to these elements and is nothing to be concerned about. With proper watering, they will rejuvenate quickly. |
---
Don't see your question?
We have several FAQ articles in our growing guide to answer even more questions. If you need additional help, contact us!