Garden Center: Customer Appreciation Days 2018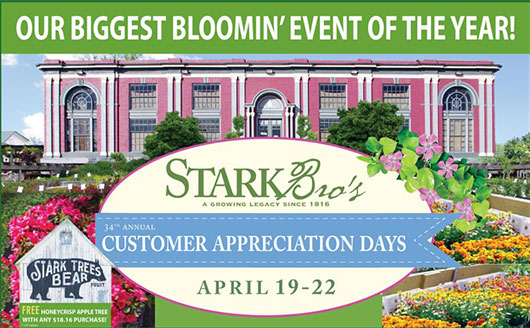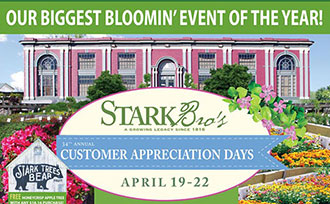 Grab a bite of lunch for a good cause
Two fund-raising lunches will be on the table during the event as well. The Buffalo Township United Fund will hold one of their twice-yearly BBQ meals on Friday, April 20 from 10am to 2pm. Lunch includes a pulled pork sandwich, chips, a cookie and a drink) for $7.00. Cinnamon rolls are $3 each, 2/$5 or $25/dozen. Delivery is available with a minimum order of 5 lunches or 12 cinnamon rolls. To pre-order, email westonmartha@gmail.com or call 314-578-3501. Proceeds go to help more than a dozen charitable organizations in Buffalo Township. The FFA (Future Farmers of America) is also holding a fund-raising lunch to help pay for a trip to the national FFA convention. On Saturday, April 21 from 10:30am to 1:30 pm, visitors can get a $5 pork-burger meal that includes chips, cookies and a soda. Both lunch services will be held on the Garden Center grounds.
When
April 19 – April 22
Hours of Operation: Thursday: 9-6 • Friday: 9-6 • Saturday: 8-6 • Sunday: 10-6
Arrive early for the best deals!
Highlights
$18.16 prices on many popular items
All 4-inch potted annuals and vegetable plants, 3/$10 or $3.99 each
Specially marked 7-gallon trees for $34.00, reg. $59.99
1-gallon shrub specials, just $8-$12 each
Perennial Special Buys
"Customer Favorites" best-seller sale prices
Berry Bonanza: Sale prices on many varieties
New! Stark® exclusive varieties, heirloom seeds, EZ Start® trees, natives, Knock Out® roses, hops and more
Lots of unadvertised deals
Daily Prize Drawings for a $25 Garden Center Gift Certificate
Grand Prize Drawing for a $250 Garden Center Gift Certificate
Get a free Honeycrisp apple tree (1/4" caliper) with any purchase of $18.16 or more!
Food & Events
Louisiana Kids In Motion T-Shirt Sale
Thursday, April 19 - Sunday, April 22
Sizes from Small to 3X
$10 for Small to XL - $12 for 2X and 3X
100% of proceeds will go to the Louisiana Kids in Motion program.
Friday, April 20
Stark Bro's Employee Relations Committee (ERC): All-Day Raffle
50/50 Raffle - Tickets are $1 each or 6/$5
Winner's name will be drawn at 4:30pm; need not be present to win.
Donation jars will be also placed near the cash registers.
Half of the raffle proceeds go to the winner; half will go to fight cancer.
Buffalo Township United Fund (BTUF): Benefit Lunch -- 10am to 2pm (or until sold out)
$7 Meal (Pulled pork sandwich, chips, cookie and a drink)
Cinnamon rolls: $3 each, 2/$5 or $25 dozen
Free delivery is available for 5 or more lunches or 12 or more cinnamon rolls.
Call 314-578-3502 to pre-order and/or arrange delivery by April 18.
BTUF solicits and distributes donations to more than a dozen charitable organization in the Buffalo Township community.
Saturday, April 21
Evening Rotary Club: All-Day Rotary Raffle
Fundraising Raffle - Tickets are $20 each - only 50 tickets will be sold
Prize: Original St. Louis Cardinals baseball print
Winner's name will be drawn late Sat. afternoon; need not be present to win.
All proceeds go to benefit Lincoln Park in Louisiana.
Future Farmers of America (FFA): Fundraising Lunch -- 10:30am-1:30pm
$5 Meal (Pork burger, chips, cookie, soda)
Proceeds help fund a trip to the FFA convention this coming fall.
Grafting Demonstration with Terry Stark
Saturday, April 21 • 11am
Wine-Making Demonstration with John Logan
Saturday, April 21 • 2pm
Join us for food and fun for everyone!
Location
Stark Bro's Garden Center 11523 Highway NN, Louisiana, MO 63353
---
Now that spring is in full swing, it's time to get ready for Stark Bro's Garden Center's 34th Annual Customer Appreciation Days event! Our popular once-a-year sale event lasts from April 19 through April 22. Customers come from as far as New York to snag some serious bargains on more than two acres of fruit, shade and ornamental trees, berry plants and annual/perennials flowers. In addition to significant sale prices on trees, shrubs and bedding plants, the occasion will feature prize drawings, how-to demonstrations and fund-raising activities. A bonus for any visitor making a purchase of $18.16 or more is a free ¼"-caliper Honeycrisp apple tree. Customers who stop by on Earth Day (Sunday, April 22 only) can get a white flowering dogwood tree for just $10 each. "We'll be offering many unadvertised specials, too," says Ken Lane, Stark Bro's Chief Marketing Officer. "This is the prime planting time of year, and we've got so many popular items discounted for this event. This sale is a great opportunity to check off your spring planting list and save a lot of money in the process." Daily prize drawings for $25 gift certificates, and a Grand Prize drawing on April 22 for a $250 gift certificate require no purchase, and visitors need not be present to win. Terry Stark, one of Stark Bro's resident horticultural experts, will present a grafting demonstration Saturday, April 21 at 11am, and John Logan, a descendant of the Stark family, will offer a wine-making seminar at 2pm the same day.