Garden Center: 2018 Customer Appreciation Days Extended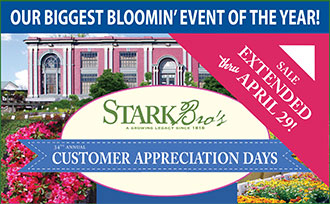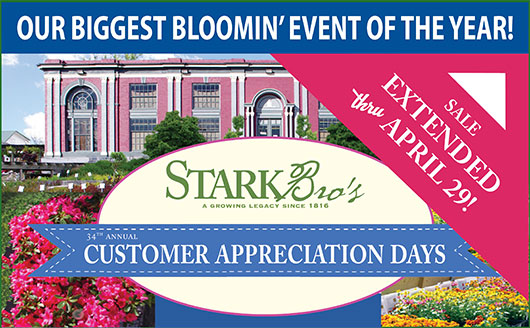 Our popular once-a-year sale event has been extended through Sunday, April 29!
Customers come from as far as New York to snag some serious bargains on more than two acres of fruit, shade and ornamental trees, berry plants and annual/perennials flowers. In addition to significant sale prices on trees, shrubs and bedding plants, the occasion will feature prize drawings, how-to demonstrations and fund-raising activities. "We'll be offering many unadvertised specials, too," says Ken Lane, Stark Bro's Chief Marketing Officer. "This is the prime planting time of year, and we've got so many popular items discounted for this event. This sale is a great opportunity to check off your spring planting list and save a lot of money in the process."
When
Through April 29
Hours of Operation: Thursday: 9-6 • Friday: 9-6 • Saturday: 8-6 • Sunday: 10-6
Arrive early for the best deals!
Highlights
$18.16 prices on many popular items
All 4-inch potted annuals and vegetable plants, 3/$10 or $3.99 each
Specially marked 7-gallon trees for $34.00, reg. $59.99
1-gallon shrub specials, just $8-$12 each
Perennial Special Buys
"Customer Favorites" best-seller sale prices
Berry Bonanza: Sale prices on many varieties
New! Stark® exclusive varieties, heirloom seeds, EZ Start® trees, natives, Knock Out® roses, hops and more
Lots of unadvertised deals
So many bargains … so little time — come on out and join the fun!
Location
Stark Bro's Garden Center 11523 Highway NN, Louisiana, MO 63353
---