Garden Center: Customer Appreciation Days 2019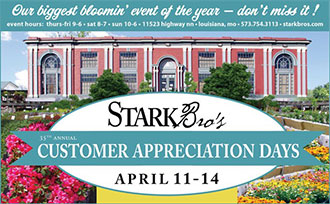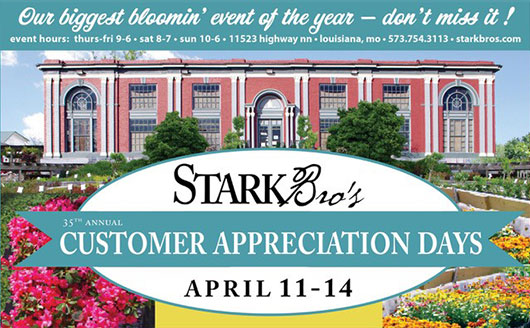 Now that spring is in full swing, it's time to get ready for Stark Bro's Garden Center's 35th Annual Customer Appreciation Days event! Our popular once-a-year sale event lasts from April 11 through April 14.
Customers come from as far as Maine to snag some serious bargains on more than two acres of fruit, shade and ornamental trees, berry plants and annual/perennial flowers. In addition to significant sale prices on trees, shrubs and bedding plants, the occasion will feature prize drawings, how-to demonstrations, a fund-raising lunch, food truck, and a wide variety of arts and crafts for sale.
A bonus for any visitor making a purchase of $18.16 or more is a free ¼"-caliper Stark® Franklin Cider™ apple tree.
"We'll be offering many unadvertised specials, too," says Ken Lane, Stark Bro's Chief Marketing Officer. "This is the prime planting time of year, and we've got so many popular items discounted for this event. This sale is a great opportunity to check off your spring planting list and save a lot of money in the process."
Daily prize drawings for $25 gift certificates, and a Grand Prize drawing on April 14 for a $250 gift certificate require no purchase, and visitors need not be present to win.
John Logan, a direct descendant of the Stark family, will offer a wine-making seminar Saturday, April 13 at 2pm, and there will also be seminars on coffee-roasting Sunday, April 14 at 1pm along with spring gardening tips from the MO Master Gardeners Association Saturday at 11am.
When
April 11 – April 14
Hours of Operation:
Thursday: 9-6 • Friday: 9-6 • Saturday: 8-7 • Sunday: 10-6
Arrive early at the Garden Center for the best deals!
Highlights
$18.16 prices on many popular items
Stark Bro's City Planter Collections (as seen in downtown Louisiana!) 24 plants/$39.99!
All 6-pack annuals and vegetable plants, 3/$10 or $3.99 each
Specially marked 7-gallon trees for $35.00, reg. $59.99
Huge hanging baskets – 2 for $35
Save 25% and more on bird, bat and bee supplies
1-gallon shrub specials, just $9-$14 each
Perennial Special Buys - $3 each (4" pot – selected premium varieties)
Quaking Aspen trees for only $30
"Customer Favorites" best-seller sale prices on fruit and nut trees
Berry-licious Berry Sale: Huge markdowns on your favorite plants
Discounts on Stark® exclusive varieties, heirloom seeds, EZ Start® trees, natives, hops and more
Lots of unadvertised deals and a great selection of gifts for gardeners
Daily Prize Drawings for a $25 Garden Center Gift Certificate
Grand Prize Drawing for a $250 Garden Center Gift Certificate
Get a free Stark® Franklin Cider™ apple tree (1/4" caliper) with any purchase of $18.16 or more!
Food & Events
Friday, April 12
Buffalo Township United Fund (BTUF): Benefit Lunch - 10am to 2pm (or until sold out)
$7 Meal (Pulled pork sandwich, chips, cookie and a drink)
Cinnamon rolls: $3 each, 2/$5 or $25 dozen
Free delivery is available for 5 or more lunches or 12 or more cinnamon rolls.
Call 314-578-3502 to pre-order and/or arrange delivery by April 11.
BTUF solicits and distributes donations to more than a dozen charitable organization in the Buffalo Township community.
Food and beverages will be available each day of the event from the Chuckwagon food truck and Big Gun Kettle Corn.
Saturday, April 13
Spring Gardening Tips – MO Master Gardeners Association
Saturday, April 13 • 11am
Wine-Making Demonstration with John Logan
Saturday, April 13 • 2pm
Sunday, April 14
Coffee Roasting with Demonstration with Ryan Cornell/Twin Pikes Roastery
Sunday, April 14 • 1pm
Join us for arts and crafts and food and fun ... for everyone!
Location
Stark Bro's Garden Center
11523 Highway NN, Louisiana, MO 63353