Stark Bro's Cookbook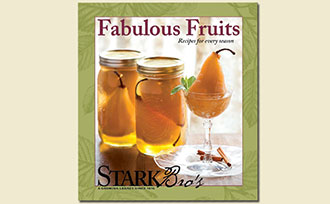 Stark Bro's Releases Its First Cookbook, "Fabulous Fruits"
LOUISIANA, MISSOURI — November 17, 2015 — Stark Bro's Nurseries & Orchards Co., the world's oldest continuously operating nursery, has published its first cookbook. Its long-awaited appearance is scheduled for public sale on December 1. Pre-orders are available at www.starkbros.com. "For years, customers have asked us for our favorite recipes for their bumper-crop harvests. We did them one better by asking for their favorites and also getting a world- renowned chef to contribute her own," says Ken Lane, Stark Bro's Chief Marketing Officer. The result is "Fabulous Fruits," a 176-page hardcover cookbook ($29.95, Acclaim Press), which features gourmet-quality recipes devised and adapted by Karen Mitcham-Stoeckley, a local chef and author. Each copy is personally signed. The collection covers all courses, from beverages to entrées and desserts, and is seasoned with beautiful full-color photography by Curt Dennison. Fruit is the star here, and each recipe reflects the season in which it's at its peak. A random sampling of the classically inspired contemporary-American offerings include:
Fresh Raspberry Mojito
Blueberry Lemon Scones
Pork Loin Cherry-Ancho
Blackberry-Ricotta Cake
Brandied Peaches
Stark Bro's published the book in conjunction with their bicentennial celebration (1816-2016), largely in response to decades of customer requests for ways to cook and preserve their fruit crops. Many of recipes suggest specific fruit varieties that will yield the most delicious result. Some dishes are savory, some are sweet, some combine the two for tantalizing new flavor combinations that will add some novelty to your next family dinner or social get-together. Says veteran food/garden writer and restaurant critic C. Serafini, "Writing a book with a focus on one ingredient is a challenge, but Ms. Stoeckley has managed to find a way to incorporate the luscious sweetness of fruit into savories and appetizers as well as into its natural dessert habitat. It's a perfect guide to deliciously managing the over-abundance of fruit at harvest time." "Fabulous Fruits" is currently available for pre-order at www.starkbros.com and will go on public sale December 1, 2015.
About Karen Mitcham-Stoeckley
A chef/owner and culinary writer, most of Karen's adult career has been devoted to creating good food to feed family and friends as well as catering to discriminating clients. Her former restaurant in Louisiana, Missouri was one of four historic downtown buildings that were restored to their original 1850s grandeur. The property housed a bistro and fine-dining restaurant, a winery and bakery along with an 11-room bed & breakfast inn. The winery, B&B and bakery are still in operation.
---