Make Your Own Baby Food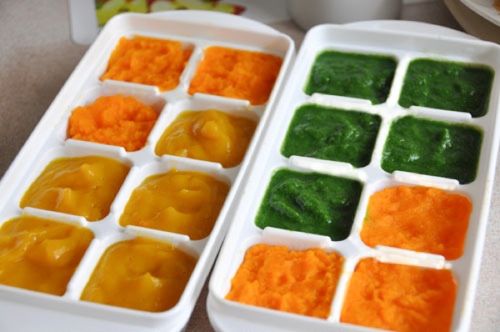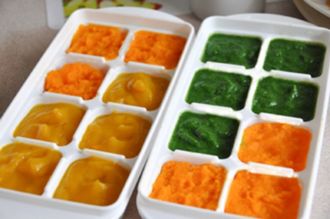 When it's time to start introducing your baby to solid foods, give some thought to what you want your baby to be eating: store-bought or homegrown, homemade baby food?
Of course, store-bought (including organic brands, which are often no different than non-organic) are more convenient. But you'll pay for that convenience: up to $1 an ounce, or more! If you're the kind of parent who wants to know exactly what's going in your child's tummy, you might want to consider making your own baby food. Going this route allows the introduction of healthy foods like asparagus and kiwi, which aren't always commercially available.
Puréeing your own harvest comes with an additional bonus: it helps Baby become accustomed to eating the same food as the rest of your family. In the long run, this saves not only money, but an enormous amount of time in not having to prepare separate meals.
Is the quality of homemade baby food really that much better?
Fact: commercially-made baby food is processed at very high temperatures for longer shelf life. The excess heat may kill the bacteria, but it also destroys many vitamins, minerals — and taste — during the process. By making your own, just lightly steaming (or better yet, processing soft foods raw) will leave all of the good taste and nutrients intact. You can freeze what you don't use within a couple of days.
Safety Note: The guidelines presented here are applicable to most babies, but always check with your pediatrician before starting your baby on any new food.
Here are just a few examples of foods you can grow, harvest and purée for baby food:
---
*Reference article: Many Babies Fed Solid Food Too Soon
Steaming raw food is typically recommended for babies younger than eight months old, as the fibers in some fruits and vegetables are difficult to digest. Soft fruits like pears, bananas and blueberries generally don't require cooking, but use your best judgment according to what you know about your own baby's digestive system.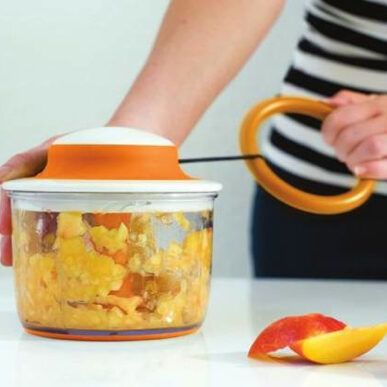 To purée:
Wash and sort through your produce, discarding anything that's overripe.
Peel/core/remove seeds if necessary, and cut into bite-size pieces.
Gently steam any food you can't squish between your thumb and forefinger (like a piece of apple).
Place soft, prepared produce in a processor, or use an immersion blender or food mill to uniformly purée the food. (A food mill is best, as it will remove any stringy fiber that may cause digestive upset.)
Add a little cereal to thicken, or add a little water to thin the purée, if needed.
To store:
For immediate use (within a day or two), store in glass or BPA-free plastic containers. For leftovers or later use, divide the remainder into bite-size portions in a BPA-free ice cube tray and cover tightly.
Homemade baby food keeps up to three days in the refrigerator, or three months in the freezer. To thaw, defrost overnight in the refrigerator, never on the countertop.
The "Four-Day Rule":
Here's a simple elimination test to target allergy-causers or foods that are creating digestive problems for your baby:
When you introduce a new food, feed your baby that same food four days in a row. During that four-day period, only include other foods you have already introduced. Only introduce one new food at a time.
Allergic reactions usually appear within an hour, but sometimes it can take several days. By following this rule, you'll know right away which food is the culprit.