5 Bits of Wisdom to improve your spring garden plans... before you even put pen to paper.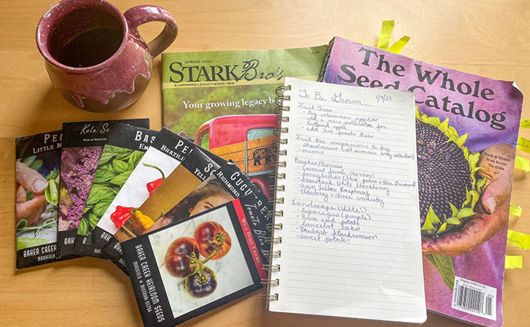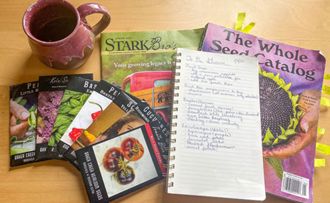 As winter has fully settled in around us in most parts of the country, this is the time to dream, plan and get creative about what you might grow in the coming spring.
To help inspire you, we've gathered some great words of wisdom from several of our favorite Youtube garden channels. If you're not already familiar with them, you'll uncover endless hours of inspiration.
As you learn and hone your own skills in the garden, nothing is quite as helpful as hearing from seasoned gardening mentors, and thanks to the world wide web, you've got tons of new mentors right at your fingertips.
Here are five channels we love:

1. It all starts with critical thinking, according to Jessica Sowards, the passionate and always budget conscious gardener from Roots & Refuge:
"Apply some critical thinking! Largely, we get taught what to think and not how to think. And so I want to empower you when it comes to how to plan your garden, to set your expectations on the fact that you will figure it out. Go in prepared to harvest wisdom with the hope to succeed in other things... If it fails, you do not have a black thumb, you're not a bad gardener. That method just didn't work for you. And then have the freedom, and the bravery, to say "Okay, now I'm gonna try this one."
2. Doug, who's always going to say it like it is on his channel OFF GRID with Doug & Stacy, warns about trying to fight nature:
"We have lots of fluctuation (where we live in the Midwest), it could go really dry, and get hot. Then we can get a bunch of rain. We need plants that can handle both. You want to look at these things when you're planning, especially so you can get something that's going to produce."
3. Luke Marion of MIgardener challenges you to ask yourself some defining questions before you set out to plan your garden in his "How to Design Your Garden" blog post:
What kind of things do you want to grow?
Is there a particular method of growing you want to try out?
What can you grow that you will enjoy growing?
What size do I want my garden, and where do I want it?
Will I really eat this? (yes, it is pretty important)
4. Shaye Elliott of The Elliott Homestead has created an incredible free resource "Build Your Own Cottage Garden" that is full of inspirational resources she links to, in addition to her own insightful tips:
Regardless of which book or gardening guru encourages you to build your gardens, it's always good to ask yourself: what's the purpose of my garden? What do I want it to do? Are you wanting to grow cut flowers for fresh bouquets to put throughout the house? Do you want basket loads of peppers, tomatoes, herbs, and greens? Or do you simply want something pretty to look at from your kitchen window?

I hope that whatever your goal or mission you'll find a bit of inspiration from my gardens, though they are still very much a work in progress. Though, truly, is the work of a gardener ever done?
5. James Prigioni has a 7 year old food forest with an abundance of fruit trees, his garden tours are a great resource to review when planning or considering companion crops. He shares some of the deeper benefits of growing your own garden, even if your plans go awry:
"One of the things I've noticed over the last seven years of growing this garden is that, not only has the garden grown, but I've grown as a person... It reminds me of a quote by Masanobu Fukuoka.. 'The ultimate goal of natural farming is not the growing of crops but the cultivation and perfection of human beings.'... Growing the food, yeah it's great to get the harvest and to eat that food, but the harvest of changing you, changing your perspective and having a greater appreciation for natural food, for nature and for being out here and experiencing life."
We found these tips, and these channels to be so inspiring! What's your go to resource for garden planning tips and tricks? Share with us on Instagram or Facebook!
---