Protect Your Harvest with Mulberry Trees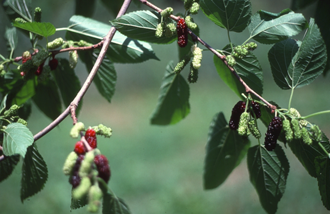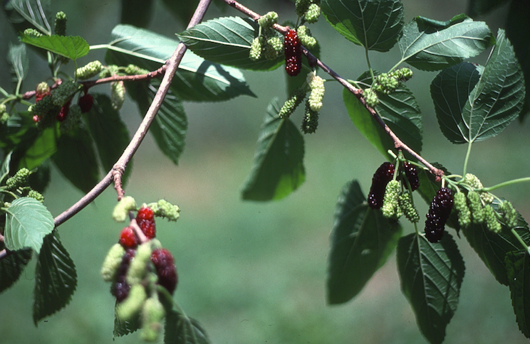 As I sit here thinking, "It's almost time for fall planting!" my mind drifts off and away from planting to harvesting. One of the best ways to pick what you want to plant: Figure out what you will want to eat!
Let me see, what can I harvest first? Cherries! Succulent, ripe, red, juicy cherries. Yum! Of course, the birds always get to them first — or at least, it seems that way! I really wouldn't care if they would eat the whole cherry, but no... they have to sample each one. I was talking about this with Elmer, our Horticultural Expert, and he reminded me I could try protecting the cherries by planting a "protector" tree.
Mulberries Protect Cherry Harvests!
Admittedly, I had completely forgotten that the very best "protector" tree to plant is a mulberry tree. Birds love mulberries even more than they love cherries, if you can believe it. Mulberry trees work by protecting the cherries; they produce enough mulberries for both the birds and the grower. And who remembers sitting under a mulberry tree as a child, eating fresh mulberries until their face and clothes were completely purple? I do! One of my fondest memories.
Here's an interesting tidbit for most types of mulberries: it is very hard to remove the mulberry color that can stain your hands, but, if you pick a leaf from the mulberry tree and rub your hands with it, the dark stains will start to disappear! (I wish I had known this when I was a kid... before I got in so much trouble for all the mulberry stains on my hands and around my mouth.)
Or try mulberry varieties, like the Pakistan Mulberry tree or the Sweet Lavender Mulberry tree, which both produce a fruit that doesn't stain!
Planting a mulberry tree as a protector is a definite "win-win" for every cherry grower. If you are looking to plant fruit trees this fall, plant cherry trees and distract them from birds by planting protecting mulberry trees nearby. No need to mention the bonus fact that your "protector" trees will reward you with a bounty of mulberry fruit, too!
---
Grow Your Own Mulberry Trees
Remember to plant, and protect, your future harvests!
— Judy S., Stark Bro's Product Specialist (ret.)