Scarlet Crush™ Apple Wins 2018 Green Thumb Award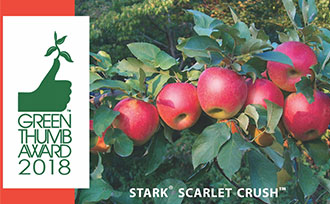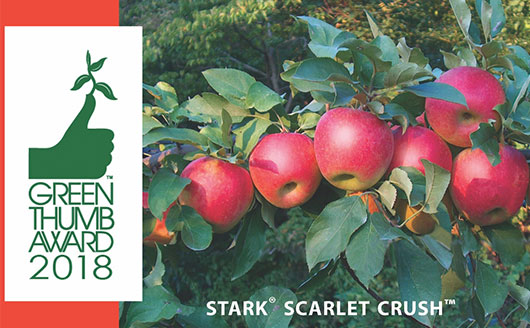 Stark Bro's Wins 2018 DGA Green Thumb Award
LOUISIANA, MO (January 25, 2018) -- The Direct Gardening Association has chosen Stark Bro's Nurseries & Orchards Co. to receive a 2018 Green Thumb Award for its new apple, Stark® Scarlet Crush™. The DGA Green Thumb Awards recognize outstanding new garden products available by mail or online. The awards are sponsored by the Direct Gardening Association, the world's largest non-profit association of companies that sell garden products directly to consumers. The Honeycrisp cross (
'Cherry Parfait #19'
), was developed by Lee and Mary Elliott of Winchester, IL and is sold exclusively by Stark Bro's. Ken Lane, Stark Bro's Chief Marketing Officer, attended the DGA Winter Conference in Orlando, Florida to accept the award in person. "It's our distinct privilege to receive the Green Thumb Award from the DGA," says Lane. "For more than 200 years we have been in the business of innovating and discovering new and better fruit varieties, and this award is great motivation for us to keep on that path. We're grateful to the judges who saw fit to recognize this as an important new apple." Stark® Scarlet Crush™ is notable for its ability to thrive in Zones 5-7, further south than its parent, Honeycrisp, which is known to be a finicky tree. The new variety also shows promising resistance to scab, rust, fire blight and powdery mildew, as well as bitter pit. Because it ripens in late September, it extends the notoriously short Honeycrisp season, a boon for commercial growers with orchards full of the country's most popular apple. A patent has been applied for. The Elliots have produced three other Honeycrisp crosses for Stark Bro's, which have recently been made available to the public: Stark® Ruby Darling, Stark® Hart's Fancy and Stark® Red Romance. The Elliotts are currently developing additional new apples for future introduction. Stark Bro's will begin its 202nd year in business this coming January.
---
About the Direct Gardening Association
The Direct Gardening Association, formerly the Mailorder Gardening Association, is a member organization of gardening and garden magazine companies. The ultimate goal of the DGA is to provide the finest gardening products, information, and service through the catalogs and magazines of its members.