A Fruitful Donation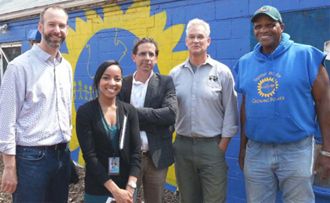 Stark Bro's Nurseries & Orchards Co. of Louisiana, MO donates fruit trees to Milwaukee's innovative urban-farming organization, Growing Power, Inc.
Stark Bro's "Fruitful" Donation Boosts Innovative Urban-Farming Organization
Louisiana, Missouri — June 12, 2014 — Stark Bro's Nurseries, the nation's largest direct-to-consumer grower of fruit and nut trees, today presented Milwaukee-based Growing Power, Inc. with a donation of nursery stock to help urban communities grow their own sustainable food sources.
Stark Bro's co-owner Tim Abair formally presented the donation at a Milwaukee, WI event held at the Growing Power farm, and attended by Growing Power's Farmer, Founder and CEO Will Allen, Matthew Howard and Tim McCollow from the city's Office of Environmental Sustainability, Growing Power employees and local supporters.
The partnership is a boon for both companies. "Over our history of nearly 200 years, Stark Bro's has planted, harvested, sold and shipped over 1 million fruit trees per year— but we don't always sell every tree in our stock," says Stark's CEO, Cameron Brown. "Once we understood what Will Allen and Growing Power do, and how close they are to our main growing operation, we began looking for a way to connect the dots and let those unsold trees directly benefit their Community Food Systems."
Brown hopes to make the donation an annual event, an objective that thrills Allen, a former professional basketball player who was named one of TIME Magazine's 100 Most Influential People In The World in 2010. Allen was also chosen as a 2008 MacArthur Foundation Fellow for his innovative holistic farming model and passion for getting good food to underserved populations in urban areas.
"This generous donation of over 3,000 fruit trees will help change the dynamic of our southeast Wisconsin community in a positive way," says Allen. "It will allow us to continue to build a safe, sustainable, good food system here, and also serve as a model for the rest of the nation.
"The donation will help us plant trees on some of the 2,500 vacant lots in Milwaukee, helping us to provide good food, help the environment and even create jobs to maintain them. And we'll do it in a natural way without the use of herbicides or pesticides. Imagine people eating fresh fruit and berries grown right in their own community! A big thank you to Stark Bro's and the efforts of Cameron Brown and his staff."
Growing Power currently serves the Milwaukee and Madison areas of Wisconsin, as well as Chicago, Illinois, with several more satellite projects throughout the U. S.
About Growing Power
Growing Power, founded in 1993, transforms communities by supporting people from diverse backgrounds, and the environments in which they live, through the development of Community Food Systems. These "urban farms" (located in Milwaukee, WI, Madison, WI and Chicago, IL) provide high-quality, healthy, affordable food for community residents. More information is available at GrowingPower.org.