Bicentennial Celebration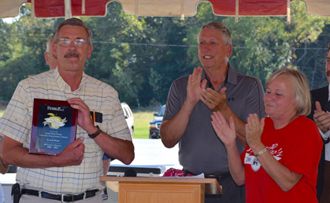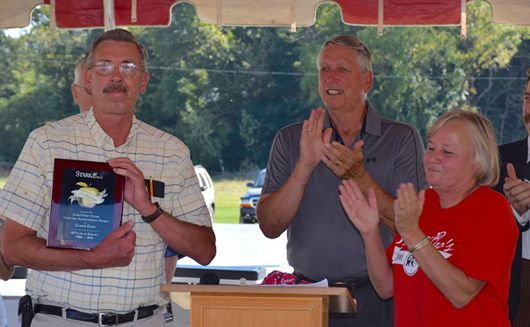 2016: Stark Bro's throws 200th anniversary party on September 24. Open to the public, this event commemorates the company's employees, past and present.
Stark Bro's Celebrates 200th Anniversary by Giving Back to the Community
Louisiana, MO (September 26, 2016) — Stark Bro's Nurseries & Orchards Co, founded in 1816, formally celebrated its 200th anniversary in business by hosting a public celebration this past Saturday. The event, held at the Pike County Fairgrounds, also served as a heartfelt thank-you to Stark Bro's employees, their families and to their loyal customers for their support over the years.
"It was a joy to see past employees and their families reminisce and reconnect with one another," said Sarah DePass, Stark Bro's Product Development Manager.
More than 700 party-goers were treated to juggling circus entertainers, a petting zoo and pony rides, a bounce castle and a wide variety of classic activities for both young and old: sack races, a water balloon toss, "Stark-ingo" and much more. Raffles were held for a Sony 40" TV and a Stark Bro's Bicentennial gift basket. The Bowling Green Rotary held a separate raffle for a pistol and a rifle.
The ceremonial Anniversary Program included speakers such as company president Cameron Brown, Louisiana mayor Bart Niedner, Missouri Representative Jim Hansen and Clay Stark Logan, the last Stark family member to serve as Stark Bro's president.
"Lots of people were nodding and smiling when Clay Logan was waxing nostalgic," added DePass. Jim Waddell, a talented local impersonator, stood in for "James Hart Stark," the company founder and told entertaining stories in character.
Rep. Hansen presented a proclamation to Stark Bro's from the Missouri legislature, and Mayor Niedner presented Brown with a key to the city.
Among the most emotional moments of the day came when Delphine Brawner, 101, Stark Bro's oldest living retiree, was honored during the program. "I can't believe you did this all for me," she said, causing tears to well up in more than a few eyes.
Another touching presentation was made to Chief Production Officer Elmer Kidd, who was given the James Hart Stark Lifetime Achievement Award, a rosewood plaque featuring an engraved golden apple. The plaque was presented by long-time co-worker Terry Stark, who gave an emotional tribute to her mentor. Kidd, who was noticeably moved by the award, will retire in November after 50 years with the company.
A fun assortment of "fair food," provided by local non-profit vendors, kept the crowd from getting hungry, while area funk band Everyday People and the Louisiana High School Band provided great music until the big fireworks show that capped the day.