Stark Bro's Continues Fruitful Partnership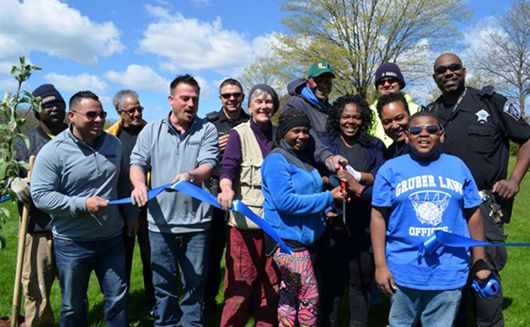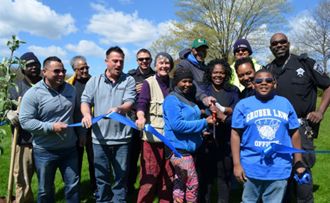 A partnership that's guaranteed to bear fruit: Growing Power and Stark Bro's are working together once again to offer healthy food options in Milwaukee.
Stark Bro's Tree Donation Transformed into McGovern Park "Urban Orchard"
Milwaukee, WI (June 22, 2017) — Now here is a partnership that's guaranteed to bear fruit: Growing Power, one of the country's best-known urban farming operations, and Stark Bro's Nurseries & Orchards Co. of Louisiana, MO, the world's oldest fruit-tree nursery, are working together once again to offer healthy food options to underserved communities in the city of Milwaukee.
"This is our fourth consecutive year of donations to Growing Power, and the more results we see, the more we want to participate," says Ken Lane. "Soon, the trees will start producing fruit, providing a local source of really fresh and substantial nutrition to community residents. It's inspiring, to say the least." More than 2,000 trees and plants comprised this year's donation.
Stark Bro's fruit trees were first used by Growing Power in partnership with the City of Milwaukee's Home Grown Project and David Frank Landscaping. More than 250 fruit trees were planted in 2015 in "pocket parks," built on vacant lots in central Milwaukee.
In the summer of 2015, Growing Power and the County of Milwaukee teamed up under the auspices of the SEED Project (Sowing, Empowering and Eliminating Deserts of Food), in an effort to bring more fresh-food resources to the city of Milwaukee. The county leased 10 acres of underused park lands to Growing Power for $1 a year. Oak Creek Parkway (8.5 acres) and McGovern Park (1.5 acres) were chosen as the orchard sites. In 2016, more than 200 Stark Bro's fruit trees were planted at Oak Creek Parkway by Growing Power staff and volunteers.
Planting in the McGovern Park Orchard began this spring. According to Jan Carroll, Growing Power Orchard Specialist, more than 60 trees have been planted there to date. "Our goal is to have all 10 acres planted by the end of the fall 2017 season," says Carroll. The trees will begin bearing fruit within two to five years.
Roughly 3,000 fruit trees will eventually be planted across Milwaukee County.
The fresh fruit and vegetables will be processed at the Growing Power farm in Milwaukee, and made available to public schools, restaurants and community centers.
Stark Bro's plans to continue the annual spring donations indefinitely.
About Growing Power
Growing Power is a national nonprofit organization and land trust supporting people from diverse backgrounds, and the environments in which they live, by helping to provide equal access to healthy, high-quality, safe and affordable food for people in all communities. Growing Power implements this mission by providing hands-on training, on-the- ground demonstration, outreach and technical assistance through the development of Community Food Systems that help people grow, process, market and distribute food in a sustainable manner.
---
For more information, visit Growing Power »