James Hart Stark Throws First Pitch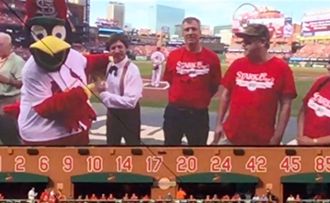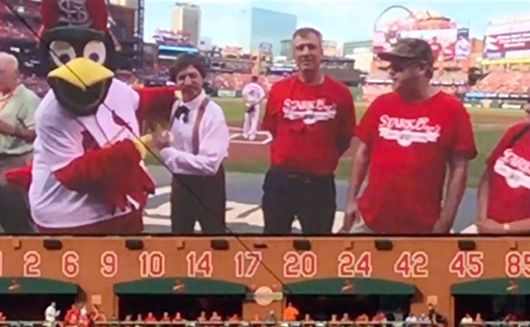 2016: As part of Stark Bro's year-long bicentennial celebrations, James Hart Stark impersonator throws the First Pitch at Cardinals/Dodgers Game on July 25.
First Pitch at Cardinals/Dodgers Game
LOUISIANA, Missouri — July 25, 2016 —It's not often that you get to see a 223-year-old man throw out the first pitch at a major-league baseball game, but that's exactly what happened last night.
Re-enactor Jim Waddell, impersonating James Hart Stark (the founder of Stark Bro's Nurseries & Orchards Co., who was born in 1792) threw a very serviceable fastball to start off ESPN's Game of Week, which featured the St. Louis Cardinals vs. the Los Angeles Dodgers at Busch Stadium.
"We were thrilled to throw out the first pitch," says Ken Lane, one of four company representatives to appear on the mound. Lane and Waddell were joined by employees Matt Brown and Terry Stark, with the Cardinals mascot looking on.
"Our employees and their families will never forget the night that they were featured on a nationally-televised baseball game," added Lane. "It's a once-in-a-lifetime experience — for many, it was their first Cardinals game ever­­­. Mr. Stark would have been so proud … the only thing better would have been a Cardinals win."
Sadly, rookie Mike Mayers gave up nine runs in 1-1/3 innings, the worst debut by a major-leaguer in 12 years. A valiant Cardinals comeback effort late in the game was not enough, and the Cards lost to the Dodgers, 9-6. Neither the heat (96°) nor the loss could dampen the spirits of the Stark Bro's group.
Said one long-time employee: "I think 'awesome' sums it up pretty good."
Stark Bro's purchased a block of 1,000 tickets, most of which were distributed to employees and their families, customers, local residents and business associates. Some of the tickets were donated to the Twin Pike Family YMCA's "Reach & Rise" mentoring program, giving student participants the opportunity to enjoy an MLB game in person.
Stark Bro's, founded in 1816, will continue celebrating its 200th anniversary in September with a grander-than-usual version of its annual "Fall Festival." Details will be forthcoming in August.