Judge Stark to be Colorfest's Grand Marshal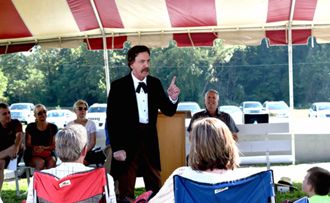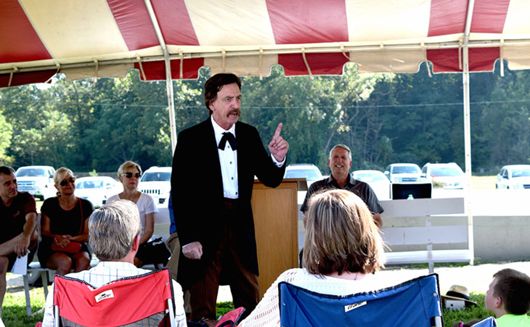 2016: Judge James Hart Stark, portrayed by Jim Waddell, to serve as the Grand Marshal of the 32nd Annual Louisiana Country Colorfest parade on October 15.
Louisiana, MO (October 6, 2016) — The Grand Marshal of the 32nd Annual Louisiana Country Colorfest parade will be none other than James Hart Stark, the founder of Stark Bro's Nurseries & Orchards Co. The parade will commence at 10:00 am, Saturday, October 15, at the riverfront.
One might wonder how a 224-year-old man could get out of bed in the morning — let alone serve as the Grand Marshal of a parade — but James has been active around town for a while now. "James" is actually Louisiana native Jim Waddell, perhaps the country's most famous Mark Twain impersonator. He has been moonlighting as "James Hart Stark," appearing at a number of events throughout Stark Bro's bicentennial year.
"I think he looks pretty good for 224," quipped Stark Bro's owner Cameron Brown at the company's recent 200th Anniversary Celebration.

Says Waddell, "My ancestors settled in Pike County just 11 years after J. H. Stark, and my family has long recognized the vital position the nursery has occupied in the community for two centuries and counting. It was both a challenge and a privilege to be asked to portray a man whose legacy has meant so much to so many."
Waddell feels doubly honored to be chosen as Grand Marshal of the big parade. "I'm an old farm boy," he says. "Born and raised in Louisiana. There is something almost magical in being asked to fulfill something as conspicuous as the place of honor in your home town's parade."
Another guest of honor who will be making a special appearance is Delphine Brawner, Stark Bro's oldest living retiree. She will celebrate her 102nd birthday this year. Delphine was also fêted at the 200th Anniversary Celebration, and was overwhelmed with emotion at the kind attention she received.
Colorfest is a long-standing fall tradition organized by the Louisiana Chamber of Commerce. There will be plenty of food, beverages, entertainment, and vendors on the grounds for everyone to enjoy, and admission is free. The parade is one of the most anticipated highlights.
Stark Bro's will show off its "200th Birthday Cake" float, built by an all-volunteer construction crew. Employees will also be staffing a booth, handing out coupons good for purchases onsite and at the Stark Bro's Garden Center on West Georgia St. in Louisiana, MO. Visitors who present the coupon will be offered a complimentary piece of birthday cake and a $5 discount on any purchase of $15 or more. A drawing will be held for a pair of 7-gallon fruit trees, worth $114. The Garden Center will be serving the birthday cake until it's gone.