MO Director of Agriculture Pays Tribute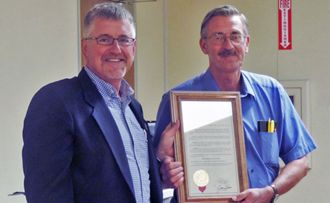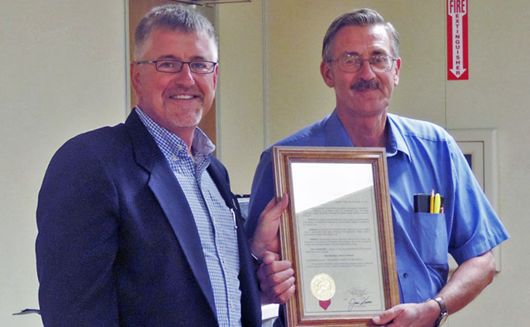 2016: Guest Speaker Richard Fordyce presents MO Governor's Proclamation to Stark Bro's on August 1 in recognition of its bicentennial.
Commemorating 200 Years
Guest Speaker Fordyce Presents MO Governor's Proclamation To Stark Bro's Nurseries & Orchards Co.
Louisiana, MO (August 1, 2016) — Richard Fordyce, Missouri's Director of Agriculture, was recently the guest speaker at a lunch program held on the grounds of Stark Bro's Nurseries & Orchards Co. in Louisiana, MO.
In recognition of Stark Bro's 200th year in business, Fordyce presented a formal proclamation from Governor Jay Nixon in the presence of visiting members of the Direct Gardening Association and many Stark Bro's employees. The event was held last Thursday.
Said Director Fordyce, "This is a great milestone, a great achievement .... this company is a jewel in the state of Missouri. To commemorate this occasion, the Governor has issued this proclamation championing and celebrating the 200th anniversary of Stark Bro's."
The proclamation was presented to Elmer Kidd, who has been with the company for 50 years.
(The text of the proclamation appears below.)
Fordyce, a fourth-generation farmer from Bethany, MO, has been the MO Director of Agriculture since December, 2013. He is an ardent proponent of "leaving the land better than we found it" and in 2012 received the "Soil Conservationist of the Year" award from the Conservation Federation of Missouri.
Text of Proclamation:
Whereas, Stark Bro's Nurseries & Orchards Co. was founded by James Hart Stark after migrating by covered wagon from Kentucky in 1816, with apple trees carried in his saddlebags; and
Whereas, James Hart Stark was a pioneer in the fruit-tree industry, using grafting technologies to produce superior fruit varieties; and
Whereas, the Stark family changed the face of apple production with the marketing of Red Delicious and Golden Delicious varieties, so now that more than half the world's apples are descended from those two varieties; and
Whereas, in 1932 Stark Bro's was the first company to receive a patent on a fruit-tree variety, the Hal-Berta® Giant™ peach; and
Whereas, Stark Bro's Nurseries & Orchards Co. continues to be a fixture in the Louisiana, Missouri area, employing 120 full-time employees, led by current owners Cameron Brown and Tim Abair; and
Whereas, having been in business for 200 years, Stark Bro's Nurseries & Orchards Co. is the world's oldest continuously operating nursery.
Now, therefore, I, Jeremiah W. "Jay" Nixon, Governor of the State of Missouri do hereby recognize the bicentennial celebration of Stark Bro's Nurseries & Orchards Co.