Stark Bro's Black Bear Wines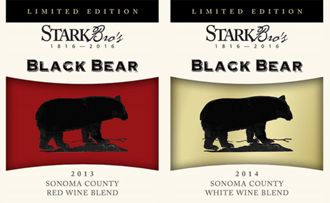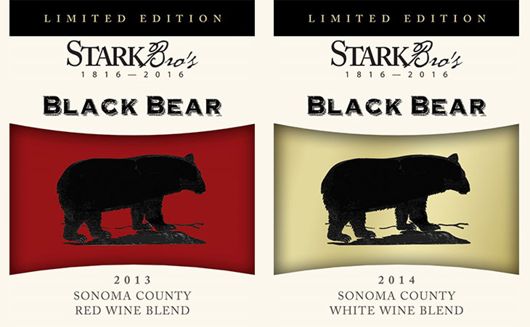 In the early 1900s, Stark Bro's black bear logo was as well known as the Coca-Cola® logo. The historic image was chosen to adorn our bicentennial wine bottles.
Three generations after James Hart Stark started Stark Bro's in 1816, Clarence M. Stark designed the familiar black bear logo to be used with the slogan, "Stark Trees Bear Fruit." This memorable image was painted on barns and signs across the U.S. in the early 1900s.
This year, to commemorate the momentous occasion of Stark Bro's 200th anniversary, we partnered with Blanchard Family Wines in California to create two custom wines. Each handmade wooden box contains two 750ml bottles of Stark Bro's "Black Bear" Red or "Black Bear" White, named in honor of Clarence's famous trademark.
These limited vintages represent a once-in two-centuries opportunity to make a stunning gift statement!
2013 Black Bear Red (Sonoma County)
Varietal: 50% Zinfandel / 50% Syrah
Oak-aged for 18 months
Aromas of plum, black pepper and dried cherry, with flavors of raspberry, strawberry jam and grape bubble gum. Earthy hints appear on the finish, which is complemented by flavors of fresh figs.
2014 Black Bear White (Russian River Valley)
Varietal: 100% Chardonnay
Oak-aged for 9 months
Aromas of tropical fruit, fresh flowers and the slightest hint of vanilla, with flavors of pineapple, guava and lemon. The light oak influence and partial malolactic fermentation create a very mellow mouth feel and a lingering citrus finish.
---
No longer available.