Stark Bro's Solar Panels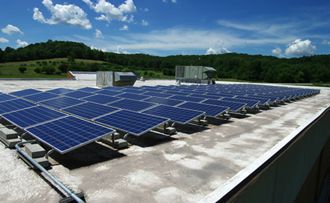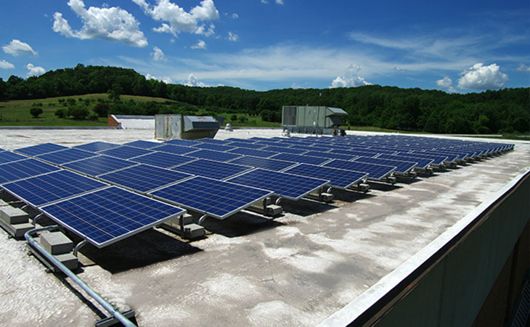 2014: Stark Bro's Nurseries & Orchards Co. is "Going Greener" this summer with the implementation of solar energy panels across its buildings and facilities.
Stark Bro's Nurseries "Going Greener" This Summer With Solar Energy
Louisiana, Missouri — May 13, 2014 — In a concerted effort to shrink its carbon footprint, Stark Bro's Nurseries is taking steps to "go greener" and install 300 solar panels on its administrative, greenhouse and warehouse buildings at its Louisiana, MO headquarters. The company is expected to flip the switch this summer, making Stark Bro's the only major online nursery to implement solar power as an integral energy source for its business operations.
Stark Bro's will be installing three arrays of 100 panels each, which will produce an average of 96,000 kilowatt hours of power annually. According to the U. S. Energy Information Administration, this is the equivalent of saving the electricity used by nine homes per year.
Initiated by Stark Bro's CEO Cameron Brown, the venture is in partnership with Microgrid Solar. "For almost 200 years, Stark Bro's has recognized a need to give back wherever possible. Solar energy is clean, renewable and — quite frankly — the right thing to do."
Cameron went on to explain that the decision to go forward with solar power will help take the 200-year-old company through the next two centuries, and that Stark Bro's customers will directly benefit from the implementation.
"The use of solar power will help hold down retail product costs as well as provide a cleaner, more sustainable environment for everyone. We encourage local business leaders to follow suit and find these initiatives an important priority to consider."
About Microgrid Solar
Microgrid Solar is a leading Midwest solar installer, based in St. Louis, MO, offering turnkey solar services for both commercial and residential clients. Microgrid has installed over 400 solar projects in the St. Louis area. The St. Louis Business Journal named Microgrid to the Who's Who in Energy in 2012 and the Heroes of the Planet in 2011. More information at microgrid-solar.com.