An EZ Start® to Growing Trees
Some trees (e.g., nut trees, pawpaw trees, and persimmon trees) can be difficult to propagate and transplant. Some have carrot-shaped taproots with few feeder roots. As bare-root trees, these can take a long time to grow – and their survival can require much attentiveness.
Here's the story of the solution we came up with, from the point-of-view of Elmer Kidd, a 50-year Stark Bro's employee (now retired).
---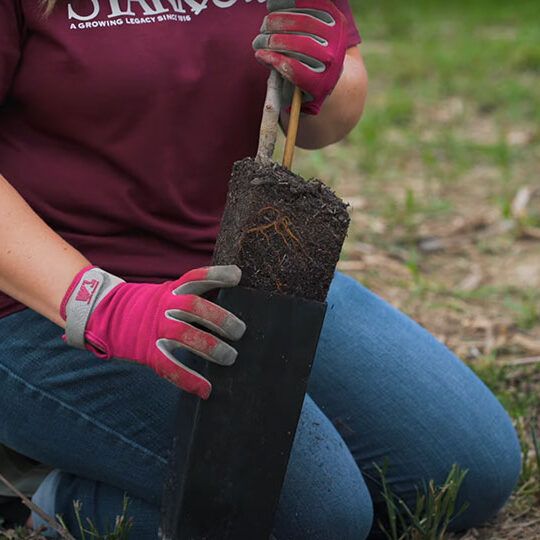 Potted Trees & The Stark® EZ Start® Program
As a young Stark Bro's employee, it was a dream of mine to offer hard-to-transplant trees such as nuts, pawpaws, and persimmons to backyard growers. The way to do that was to grow the trees so that the roots would be air-pruned, which creates a dense feeder-root system inside the pot. Right in front of some of my peers, one of my colleagues was heard to say, "another one of Elmer's windblown ideas!" Well, here at Stark Bro's, that "windblown idea" eventually took the form of the Stark® EZ Start® Program.
Just to clarify: air-pruning pots are not my invention, but I'm glad Stark Bro's allowed me to bring the benefits of these potted trees to you and the company! Others in the industry had been offering air-pruned products for years prior to our venture, but not many mail-order companies were doing it. When we made the decision to move some of our tree varieties to air-pruning/bottomless pots, it wasn't simply for the sake of change — it was to actually make the trees better.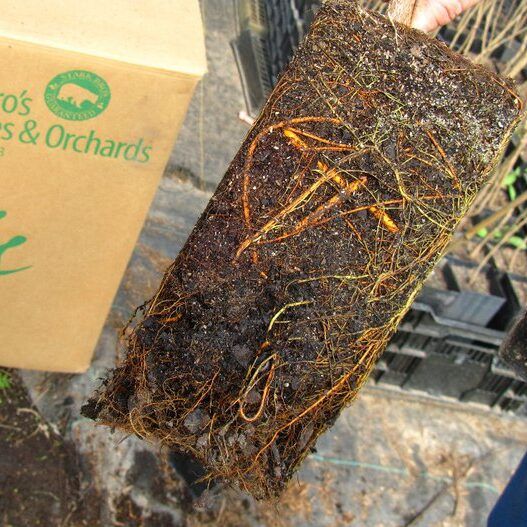 Around 2008, we began growing our grafted nut trees, pawpaw trees, and persimmon trees (and others) in 4″ x 4″ x10″ pots to improve performance. One of the merits of this tall, rectangular pot is the severed taproot, which forces feeder roots to grow within the pot. These feeder roots then grow to the bottom of the pot, and are naturally air-pruned. This process encourages the development of a strong mass of roots within the pot to support the tree during its growth and transplantation.
Take a nut tree, for example. Grown in our EZ Start® pot, a nut tree won't encounter stress like a bare-root one dug from the field or a growing bed. In fact, the pot even acts like a protective wrapper all the way to your home. You can leave it around the roots until you're ready to plant. All the same, be sure to remove the pot before you plant – it is merely a temporary container.
We are proud of our Stark® EZ Start® potted trees, and trust that you will have the final say in their success!
— Elmer Kidd, Stark Bro's Chief Production Officer (retired)
---
In 2017, we took Elmer's idea a step further and expanded the Stark® EZ Start® program to include Supreme trees, which are larger, stronger and have an even more advanced root system than the original EZ Start® potted trees. Here's how they compare:
Stark® EZ Start®Trees Comparison
---
| Type | Pot Size | Ship Height |
| --- | --- | --- |
| EZ Start® | 4"x4"x10" | 1½ - 3' tall |
| Supreme EZ Start® | 5"x5"x12" | 3 - 4' tall |
| Supreme XL | 9"x9"x12" | 4-5' tall |
Our customers have been asking for larger, more advanced trees for some time now, and adding Supreme to the Stark® EZ Start® lineup is helping gardeners to get their trees established sooner and more easily. That means their trees will start bearing fruit sooner.
By the way, Supreme sizes are also available in bare-root form for many varieties, if that's what you prefer. All of the available tree size and pot options are visible in the "Choose an option" dropdown menu on each product page.