How to Plant Bare-Root Rhubarb
Some rhubarb plants from Stark Bro's are bareroot, consisting of dormant crowns and root systems. Here's what you need to know about planting bare-root rhubarb.
Rhubarb is commonly known as a pie ingredient and it's gaining popularity in other tasty recipes like salads, sauces, and juice. The rhubarb we eat is actually the green to reddish stalks of an attractive perennial garden plant with large, tropical-looking (inedible) leaves.
We ship our bare-root rhubarb dormant to reduce the risk of transplant shock and so that rhubarb can be planted both in the fall and in the spring in most areas.
Note: Bare-root rhubarb may also arrive dusted in a lime powder to avoid becoming moldy.
Planting Bare-Root Rhubarb Plants
Planting bare-root rhubarb is easy. The most challenging part may be figuring out which end is up!
Here's what you need:
Preparation
Choose a sunny planting location free of weeds. Rhubarb matures into a large and leafy plant that loves light, so a spot that allows for at least 6 hours of daily sun will suffice. Its large glossy leaves may cause shading issues with other plants, so be sure to allow at least 3 feet of space between each rhubarb plant and other plants.
Test your garden soil for nutrients and proper pH before planting. Rhubarb plants thrive in a fertile, well-drained soil with a pH between 5.5 and 7.0. If you're not familiar with your chosen planting site, you can send in a soil sample to your local Cooperative Extension Office to get an analysis done for a small fee. You can also test for moisture and soil pH yourself with our handy Digital Soil Meters.
Planting
Take your hand trowel and dig a planting hole 12" wide and 12" deep, making sure to break up the sides and bottom of the hole so that roots can spread and become established. This is especially important in clay-type soils.
Mix in any soil additives you're using, like well-rotted/dehydrated manure and compost, in combination with the top soil that was removed from the planting hole. Avoid high-nitrogen fertilizer at planting time, especially in the fall. Back-fill the soil mixture into the planting hole and position your bare-root rhubarb plant so that the crown (top part of the plant, opposite of the root end) ends up 2-3" below the soil surface.
Lightly tamp the soil over the newly planted rhubarb to remove any air pockets and water thoroughly.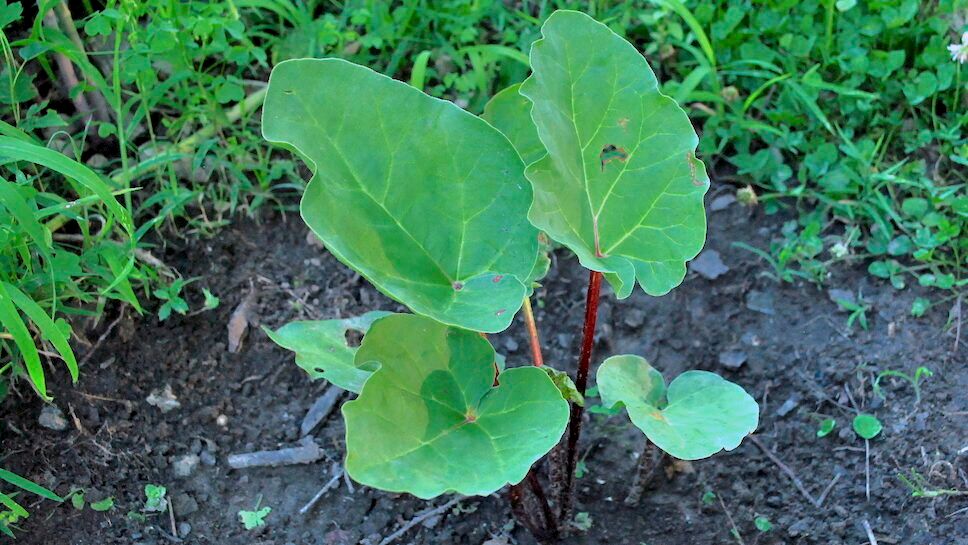 Keeping this rhubarb plant well-fed with nitrogen or nutrient-rich organic material during the growing season will help to ensure a happy, healthy, and productive rhubarb plant – ready for harvest of the tangy red stalks in another year or so!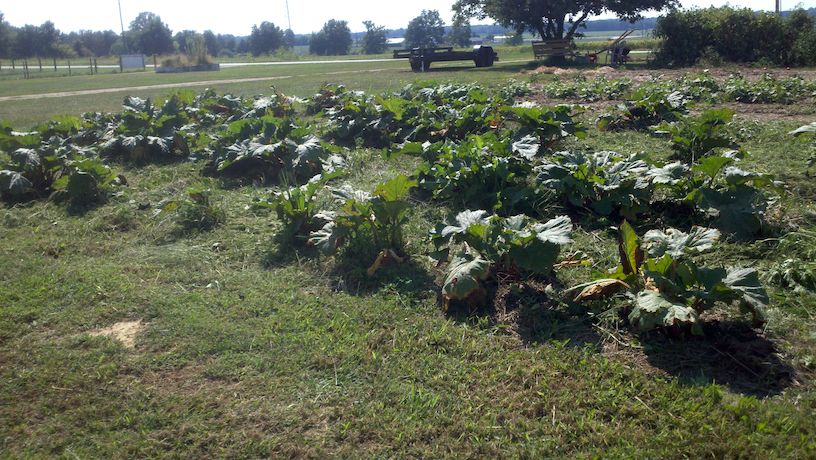 Rhubarb plants are highly productive once established. After the second year in the ground, you will be able to start lightly harvesting the larger stalks and enjoying as you please. Be sure not to consume any other part of the plant, since only the stalks (not leaves) are safe to eat.
If your rhubarb roots arrive and you are not prepared or able to plant them immediately, don't worry! You can delay planting by following the steps mentioned in our article, What To Do if You Can't Plant When Your Order Arrives.
---
Grow Your Own Rhubarb Plants