Apple Month: Quick & Easy Apple Pockets Recipe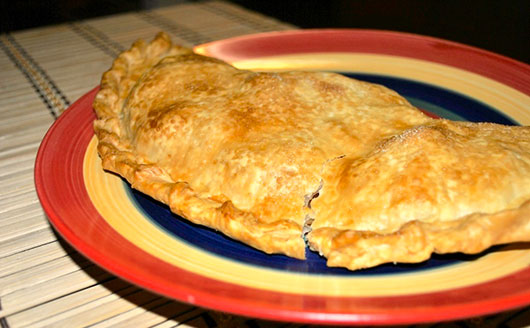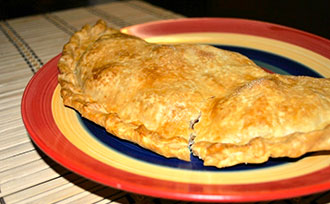 Apple Envelopes / Apple Pockets Recipe
Preparation Time
: 15 minutes
Baking Time
: 45 minutes
Yield
: 2 servings
You Need:
3 medium-size apples (McIntosh)
2 tablespoons honey
1 teaspoon ground allspice
¼ cup raisins
Pastry for a

single

9-inch pie crust
Milk
Sugar
Directions:
Preheat the oven to 400ºF.
Peel, core, and slice the apples into ¼-inch pieces.
In a medium-size bowl, combine the apples with the honey, allspice, and raisins.
Roll out the pastry to a circle approximately 10 inches in diameter. Use a 10-inch plate as a guide, if possible.
Spoon the apple mixture over half the dough, leaving a 1-inch border. Fold the other half over the apples, moisten the edges with milk, and seal. Crimp the edges with fork tines or a fork handle.
Place on a greased baking pan†, brush with milk, and sprinkle with sugar.
Bake for 45 minutes. Serve warm with English Custard Sauce* or heavy cream.
†
To avoid messy cleanup in your oven, be sure to use a pan with edges to catch any potential drips
*Additional notes: English Custard Sauce
Dinner in England is always followed by "pudding," the name given to any sweet dessert. Pies and baked puddings are always served with double (clotted) cream or a custard – typically composed of sugar, cornstarch, egg yolks, milk, and vanilla extract. You can also serve this sauce with baked apples, crisps, and cobblers.
---
The recipe above was excerpted from Granny Stark's Apple Cookbook © Olwen Woodier used with permission from Storey Publishing.
Almost everyone loves a good apple pie, but not everyone has time to sit down with a fork and eat one. Fortunately, fruit-filled pastries are available on the go! That's the idea behind apple pockets, also called "apple envelopes" or "apple hand pies". You can enjoy all the perks of your own homemade apple pie packed neatly inside a closed pastry pocket. Celebrate Apple Month with your loved ones with our quick and easy apple pockets recipe: