Blueberry Muffin Recipe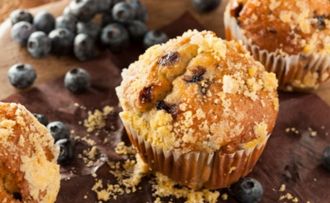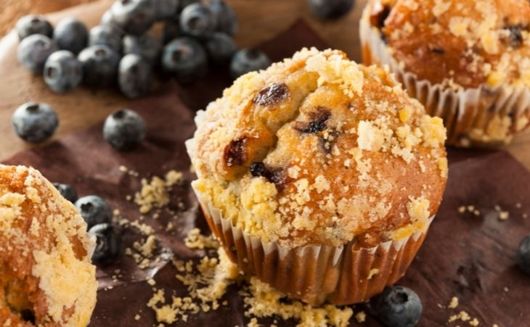 Straight from our cookbook, Fabulous Fruits, these delicious, moist muffins can also be made with raspberries, strawberries, peaches, figs, or any fruit you prefer. You may also top them with a crumb topping of oatmeal, brown sugar, butter, and cinnamon before baking.
This recipe will make a dozen standard muffins or six jumbo-sized muffins. Serve warm as an extra treat!
Ingredients:
2 cups all-purpose flour
1 cup sugar
1 1/2 tsp. baking powder
3/4 tsp. baking soda
1/2 tsp. salt
1/2 tsp. cinnamon
1/2 cup unsalted butter, softened
1 cup sour cream
1/3 cup milk
2 large eggs
1 cup fresh blueberries (or other chopped fruit)
Recipe:
Preheat oven to 375 degrees.
Line muffin tin with paper baking cups.
In a mixing bowl, combine all dry ingredients and blend well.
In another large mixing bowl, beat butter and sugar with a mixer on medium speed, until fluffy.
Add the sour cream and eggs, one at a time to the butter-sugar mixture, beating after the addition of each egg.
Add the dry ingredients and the milk to the butter-sugar mixture, and blend until just combined. Do not overmix.
Fill the muffin cups 2/3 full.
Bake 20 minutes for standard muffins or 30 for jumbo muffins.
Test with a toothpick for doneness.