No-Bake Key Lime Bar Recipe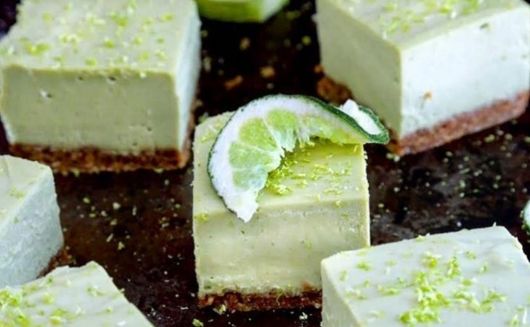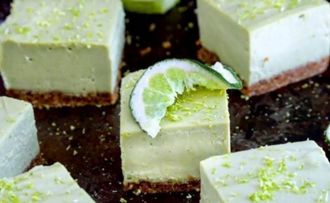 Aube is also the creator of 'Kitchen Vignettes', an online farm-to-table cooking show on PBS that received the 2012 Saveur Magazine Best Food Blog Award and is a two-time James Beard Award nominee. We are honored that she is choosing to grow our plants as inspiration and as a resource for her award-winning cooking!
"Last year I grew 3 lemons on my little indoor one-year-old Meyer lemon tree and I've never been so proud. So this year I'm gonna buy a couple of key lime trees. These key lime pie bars are not (yet!) made with homegrown limes but hopefully, they will be in my dream future. Actually, in my dream scenario, the key lime pie bars just fall straight off the tree and into my mouth. I dream a lot.
Here's the recipe for these extra creamy, extra zesty, and pretty damn nutritious dream bars (which happen to be no-bake, vegan, gluten-free)."

Crust:
3/4 cup rolled oats
3/4 cup walnuts
1/2 cup coconut sugar
1 tsp cinnamon
1/8 tsp salt
1 tbsp coconut oil
2 tsp lime zest
Filling:
1 cup raw, unsalted cashews, pre-soaked in water for 1 or 2 hours
1 perfectly ripe avocado
1/2 cup freshly-squeezed lime juice
1/3 cup maple syrup
1/2 cup coconut cream (the solid cream at the top of a cold can of coconut milk)
1 tbsp coconut oil, melted
1 tsp. organic lime zest
"In a skillet, toast the rolled oats and walnuts over medium-low heat for about 10 minutes, stirring frequently, until fragrant and begin to darken ever so slightly. Allow to cool fully, about 20 minutes or so. Place all the crust ingredients in a food processor or high-power blender, except the coconut oil, and pulse until a fine consistency is achieved. Then add the coconut oil and pulse until incorporated. Press evenly into the bottom of a 9 x 5 loaf pan lined with parchment or wax paper.
In a high-power blender, purée the soaked and drained cashews with the lime juice until they reach a smooth consistency. Add all the remaining filling ingredients and blend until super silky and smooth. Pour over crust. Refrigerate for at least 4 hours. Slice with a sharp knife. Garnish with lime zest and whipped cream if you wish. Enjoy!"
Key Lime trees can be grown outdoors in warmer climates, but many are surprised to learn, that these citrus trees make great houseplants! You can grow them inside by a sunny window, for fresh, homegrown fruit ideal for cooking and baking!
---
---
Check out Aube's Instagram for more inspiration!