Flora Disney's Deep Dish Wolf River Apple Pie Recipe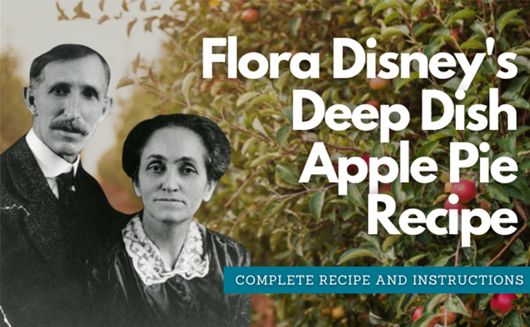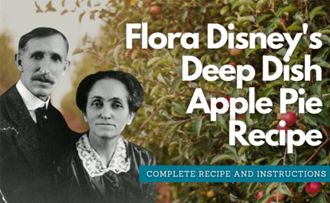 It was no secret that Walt Disney, the famous pioneer of animated cartoon films, loved a good apple pie. In fact, there was one, in particular, that was his favorite. Made with love by his mother, Flora Disney, the Wolf River Apple Pie was one Walt would often speak about to anyone who would listen.
Most notable about this pie were the apples that she would use to make it. Grown in their home orchard on their farm in Marceline, Missouri, Flora would use their large Wolf River apples. These apples were so large that it's rumored that she could make an entire pie from just one apple.
On our recent visit to Walt Disney's childhood home, Kaye Malin's shared with us how the current Wolf Apple trees are doing, and the coveted apple pie recipe from Flora Disney.
Deep Dish Wolf River Apple Pie Recipe
Pie Ingredients:
7-8 apples (2-3 if large Wolf River Apples) cut into nugget size pieces
2-3 tablespoons of flour
1 teaspoon of cinnamon
1/2 teaspoon nutmeg
Add all ingredients to a 2-qt bowl and mix well. Let sit while fixing the crust.
Pastry Crust
3 cups flour
1 teaspoon salt
1 1/8 cup of lard
1 egg
1 teaspoon of vinegar
7 tablespoons of water
Cut lard in with flour and salt. In a separate bowl, mix together egg, vinegar, and water. Pour over flour mixture and mix.
The dough may be a little sticky - this is okay. Pinch off a handful of dough and roll out onto a clean flour cloth into a circle large enough to cover the sides and bottom of the pie dish. Place into a 9-inch pie dish.
Pour apple mixture into the dish.
Pinch off a small ball of dough and roll out on a clean flour cloth - this only needs to be the size of the opening of the pie dish. Cut bird tracks into this piece of dough. Place this on top of the apples, then pinch ends together - squeezing/pinching the dough between forefinger and thumbs.
Use any juice left from the apple mixture in the bowl to sprinkle on top of the pie - it makes it prettier.
Cook for 1 hour at 350 degrees.
Have the ice cream ready to put on top of your piece of pie. ENJOY.
*A special thanks to our friends at the Walt Disney Hometown Museum for sharing the recipe with us!