Apple Month: Homemade Apple Punch Recipe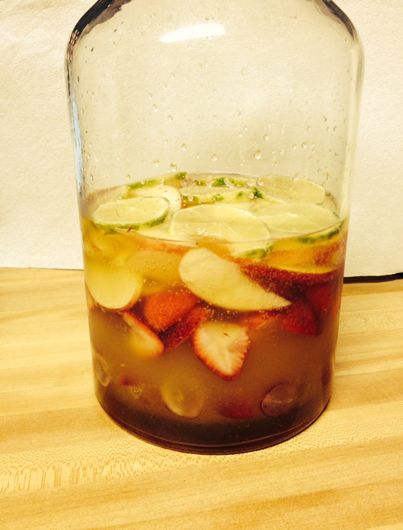 October is Apple Month at Stark Bro's! Delight in this fruity apple punch recipe from the Granny Stark's Apple Cookbook by Olwen Woodier.
From Wikipedia: "The word punch is a loanword from Hindi panch (meaning five) and the drink was originally made with five ingredients: alcohol, sugar, lemon, water, and tea or spices. The original drink was named paantsch."
There are many variations on the fruits and other ingredients involved in punch, so it is nearly impossible to find a combination that doesn't suit your taste. Also known as "fruit crush", this (non-alcoholic) apple punch recipe is sure to be a hit as you celebrate Apple Month with us this October, or any special occasion!
Fruit Crush / Apple Punch Recipe
Preparation Time: 30 minutes
Yield: 4-6 servings
You Need:
½ cup water
½ cup sugar
1 stick cinnamon
4 whole cloves
1 juice orange
1 cup whole strawberries or 1 cup melon balls
1 cup seedless grapes
1 large apple
1 lime
1 quart chilled apple juice or cider
1 (7-ounce) bottle club soda, chilled
Directions:
Heat the water and sugar in a small saucepan over low heat. Stir until the sugar dissolves – about 1 minute.
Add the cinnamon and the cloves.*
Peel the orange and add the zest to the syrup*. Remove from the heat.
Cut the orange in half and squeeze the juice into the syrup.
Hull the strawberries and slice in half. Place in a punch bowl.
Halve the grapes and add to the bowl.
Core and thinly slice the apple. Drop it into the bowl.
Thinly slice the lime. Add to the bowl.
Strain the syrup over the fruit.
Pour in the apple juice and club soda. Stir and serve in glasses.
*To really bring out these flavors, be sure to let simmer for 5-8 minutes and then allow to cool.
---
The recipe above was excerpted from Granny Stark's Apple Cookbook © Olwen Woodier used with permission from Storey Publishing.