Handcrafted Berry Liqueur Recipe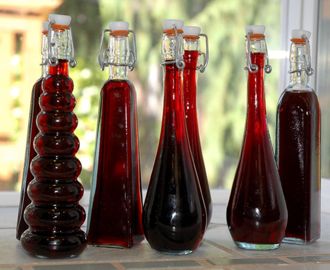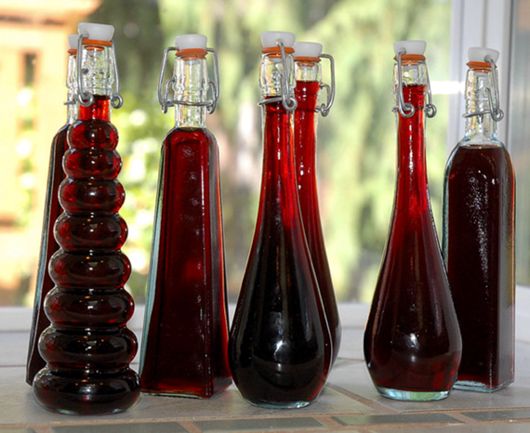 Take advantage of this handcrafted berry liqueur recipe, make your own berry liqueur, and you won't have to pay the high-end prices of store bought.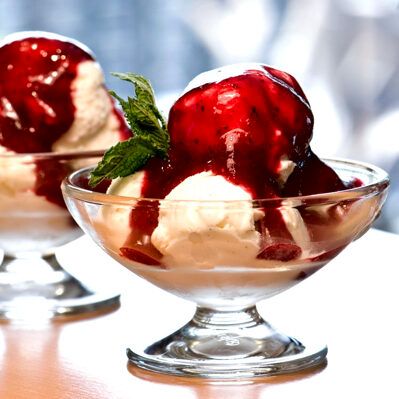 Artisan cocktails are all the rage right now, and many of them call for high-end berry liqueurs. These beautiful drinks also have high-end prices, even if you make them at home. A bottle of Chambord (black raspberry liqueur) can set you back at least $32. With very little effort (and a bit of patience), you can make elegant berry liqueurs for less than half that price. The hard part is waiting for it to age before you can drink it!
And, as you may know, August 11 is National Raspberry Tart Day, so we're including a bonus Fresh Raspberry Tart Recipe in addition to this post.
Safety Alert: Many recipes for homemade liqueurs call for adding the sugar to the berries before aging. This can cause dangerous bacteria; drinking liqueur made this way can cause serious illness. Please follow the recipe below for the safe way to make and store your homemade liqueur.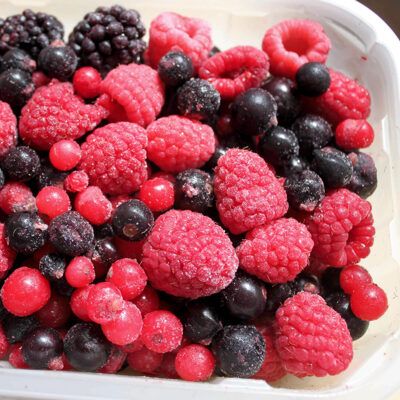 Handcrafted Berry Liqueur Recipe
You will need:
3 cups ripe berries (blackberries, raspberries, blueberries or a mixture), or cherries
3 cups good-quality vodka (about one 750 ml bottle)
½ cup brandy (optional)
1 whole clove
A strip or two of lemon peel, pith removed
1/4 teaspoon vanilla
3/4 cup water
2 cups white sugar (you can add more later)
Instructions: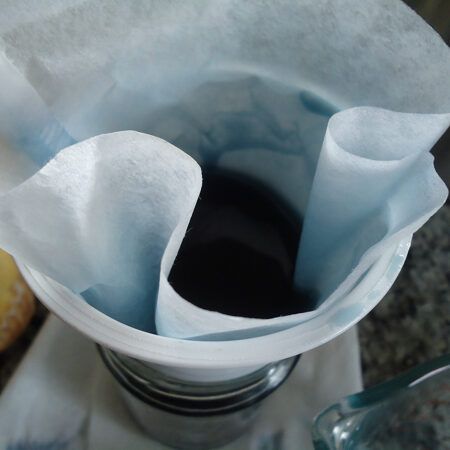 Pick through the fruit and discard any that is overly soft or has spots of mold. Gently rinse in a colander and drain for at least 10 minutes.
In a large mixing bowl, lightly crush the fruit, using the bottom of a drinking glass.
Add the vodka, brandy (optional), clove, lemon peel and vanilla and mix well with a large spoon.

Do not

add the sugar yet.
Pour mixture into a large, clean sealable 2-quart glass jar or divide among several smaller jars.
Let stand to age in a cool, dark place for 3 weeks. Stir once each week during that period.
Pour the liqueur mixture through a cheesecloth or large wet coffee filter and strain into a large mixing bowl. Pour the strained liquid back into your glass jar(s).
Let stand to age again for one week in a cool, dark place and repeat the straining process to get a beautiful, jewel-like liqueur.
After the second straining, heat the 3/4 cup of water and the sugar in a medium saucepan over low heat, just until the sugar dissolves. (High heat will cause the sugar to crystallize.) Cool completely.
Add the sugar syrup to the strained berry mixture, and pour the liqueur into decorative bottles or canning jars and cork or seal them. Label and date the jars.
To be safe, age for at least 8 weeks in the refrigerator. Aging for 12 weeks will result in a better liqueur.
Yields about one quart of liqueur. Keep refrigerated or frozen.