Adding Fruit to Your Homestead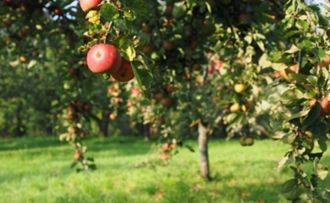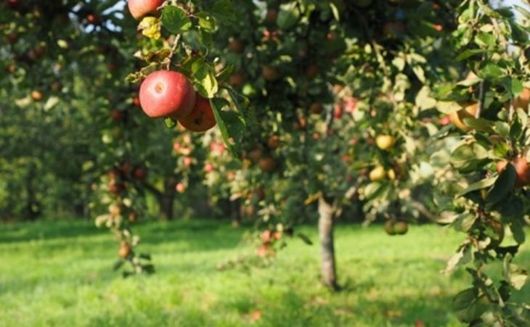 Things to Consider When Planning or Expanding Your Homestead Orchard and Garden
As gardeners ourselves, we know that sometimes the learning curve and forces of nature can stand in the way of your success, which is why we offer our product guarantee and try to provide you with as many resources to learn and grow as possible.
It could take years of trial and error, plus plenty of learning "on the job" on your own land, but the commonly asked questions we cover below should save you a lot of time and frustration and serve as a great head start to planning or expanding your own homestead.
In fact, many experienced homesteaders have shared with us that the #1 step you should take when beginning your homestead journey is to plant your fruit bearing plants! As primary food sources, these trees and bushes will serve as cornerstones of your food landscape on your property, no matter how big or small. The sooner you get your trees plotted out and planted, the sooner your perennial harvests will begin.
Well-chosen trees suited to your climate will thrive on your property and will likely be filling baskets full of fruit long after your gone, so consider this a legacy you are planting for generations.
*Please note that this information should only be used as an estimation tool to help with future expectations — it is by no means a guarantee. Planting location, weather, care and maintenance, tree maturity, varietal vigor/nature, and other variables all contribute to the overall success, so this information is merely a guide.
Where do I begin?
Chances are, if you're a homesteader who is beginning this journey for the first time, you've done quite a bit of research! But the fun comes in when evaluating what's going to work in your unique situation.

Here are our best tips to help you get started:
Step 1: Brainstorm your wish list
This step can be done whether you're on your long-term property or not! As our friend Jess Sowards from Roots & Refuge says "Make Your Waiting Room Your Classroom"
Write down everything you'd love to be able to supply (even 10 or 15 years down the road) from your own land. Get creative here, the sky's the limit in the brainstorming phase.

For example:

Grow 50% of the food your family consumes
Enough fruit for Fresh Eating/Canning or Fermenting/Dried Fruit for the entire year
Nuts for fresh eating and pies
Herbal Medicines
Berry Bushes for fresh eating
A U-Pick Operation for additional income
Enough for a Farmers Market Stand
A perennial, low maintenance food forest
Step 2: Experiment!
You've made a list of what you're interested in, now's your chance to get a real taste.
Join Homesteading communities on social media channels to see what people are growing in similar climates.
Local Meet Ups! If you have a chance, nothing is more valuable than personal experience. Connect with people in the area you plan to live and learn from them first-hand.
Try it out with products from local farmers. This step, you get to support a local farmer AND learn what you might grow yourself one day.

Take your wish list above and buy the amount of product you think you would need from a local farm for canning, or how much you believe your family will actually consume and experiment with different varieties they are growing locally.

Grow whatever on the wish list you can in your current situation.

Many varieties of fruits and berries can be grown in containers, so you can begin getting that hands-on experience right away before you begin purchasing enough to fill your homestead. There is no better way to learn than to get your hands in the dirt.
Step 3: Learn Your land and location:
No two locations are exactly alike, but there are three basic principles to use when evaluating your location: Sunlight, Space, and Soil:
Sunlight: What parts of your property receive the most natural sunlight, and at what times of day? This is where you can begin to plan out what you'll be able to feasibly grow. Then, study the varieties and plants accordingly, which will tolerate some shade? What needs full sun to thrive? The product descriptions on our website can serve as your guide.
Space: In addition to sunshine, you'll need ample space. Figure out how large your plot is to grow. *Note* This doesn't have to be one large space! You can grow in all the nooks and crannies of your homestead over time. Identify where you want to start and get a handle on how much space you have. Below, we'll share how to choose varieties accordingly.
Soil: Prepare your soil for growing. After sunlight, the second most important factor is going to be the quality of the soil in the spot you wish to grow your fruits.
Once you've figured out the best space for growing on your property, consider what things you'll be tending to most closely. Annual vegetables usually require more daily maintenance than more hardy bushes or trees. Consider the proximity to your home based on what you'll need to keep the closest eye on!
Other Considerations Regarding Location:

Check to see if your neighbors are growing fruit trees. If they are, and you'll be growing trees nearby, then you can choose complimentary varieties for pollination and support each other's growing success!

Know what's underneath the soil! You'll want to make sure you don't disturb any electricity, sewer, or gas lines. You can check with your Public Service Commission to find out if it is safe to dig in the location you've selected.

Access to water. Young fruit trees need to be watered deeply at least once a week. You'll want to make sure you set up drip irrigation or have access to a hose to easily water the trees when necessary.
Consult your county extension office for regulations on growing fruit trees and maintenance requirements of fruit trees in your area. They can also recommend varieties to avoid for known pests in the area, which varieties tend to thrive and what things to look out for as you make your choices.
Step 4: Growing Methods
For as long as people have been growing their own food across cultures and generations, they've developed unique practices for how to best work the land. The truth is, you may have to explore a few different methods on your own property in order to determine what's right for you.
Here's some places to start:
Traditional farming rows - These are used for ease of harvesting and to produce greater volumes of product, and traditionally used with large farm equipment
Natural Farming - Follows similar practices as traditional farming but with organic maintenance of the crops and land with the goal of the health of the animals, land and people consuming the food in mind.
Permaculture / Food Forests - the co-founder of Permaculture, David Holmgren succinctly describes the distinction of permaculture as: "Traditional agriculture was labour intensive, industrial agriculture is energy intensive, and permaculture-designed systems are information and design intensive." Permaculture is the practice of studying the existing systems on your property and designing your garden spaces to take advantage of the natural systems already in place.
Raised Bed Gardening, Lasagna Gardening, Hügelkultur... the list goes on! Spend some time exploring and experimenting what works best for you. If you're growing in smaller spaces, we have recommendations for that as well.
In addition to the major categories, there are as many unique tips and practices as there are growers! Research and learn from neighbors, and the endless books, blogs and YouTube channels you can reference to study these methods.
Step 5: Choosing Your Fruits
Now for the good stuff - Choosing your plants! Just like a table with a thanksgiving feast, there's far more on your wish list than you'd want to try to tackle in one growing season, or even in a lifetime! Here are a few things to consider when planning what comes first.
We recommend making one of your very first actions on the homestead planting your primary trees! Unlike vegetables and berry bushes which you can add to every year and expand your harvest, it will take several years for the bigger trees on your property to begin producing, and so that's one step you won't want to miss. There's an old proverb that says, "The best time to plant a tree was 20 years ago. The second-best time is now."
Spacing - Depending on how much room you have on your homestead; you'll want to balance the desirability of certain fruits with the amount of space you have on your property.
Quantity - We'll cover more on the types of trees to choose, but however many you think you need, plan and budget for a few more! It may take some longer to bear than you expect, some may not thrive in your location even if they live, and there will be natural loss thanks to predators, weather, pests and even grower error (we're human and we're learning!)
Pollination - If you're unfamiliar with how plant pollination works, you'll want to pay close attention to the notes on the product pages on our site to make sure you choose a variety that either can grow fruit on its own, or if it needs a pollinating partner (another tree within 50 yards) in order to produce fruit, you won't want to miss that in your calculations! Some plants may say they are self-pollinating but benefit from having another variety nearby. Blueberries and Elderberries for example, are self-fruitful but will produce more abundantly with 2-3 varieties.

One more tip, if you're growing apples and new to pollination, go ahead and plant a crabapple tree if you have the space! They're excellent pollinators, and a great food source for bees, birds, and other wildlife.
More Things to Consider For Your Orchard:
In addition to the steps we outlined above, there are other factors that will influence your planning.
Years to Bear Fruit:
The trees that take the most time to produce, generally speaking, are nut trees, if you're interested in having nut trees on your property, you'll want to tackle these first.
Review the charts below for variety types and how long they will take to bear:
Stark Bro's Nut Trees are 1-2 years old when shipped. "Years Until Harvest" begins counting after the trees are transplanted into your growing space.
Stark Bro's Trees are 1-2 years old when shipped. "Years to Fruit" begins counting after the trees are transplanted into your growing space.
Plant Size & Space Considerations:
You'll want to understand the size and space needs for each variety you consider. We've explained the difference between fruit tree sizes in detail for you here.

*One thing important to note is the life expectancy of your trees. Dwarf trees tend to have a shorter life expectancy than semi-dwarf, and standard trees tend to have a longer life-expectancy than the semi-dwarfs. If you are making a long-term investment on your homestead, you may consider choosing one of the larger sized trees.
Dwarf

Matures to be about 8-10' tall and wide. Provides an abundance of full-size fruit in a minimal amount of space.
Semi-Dwarf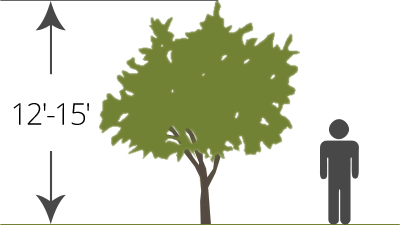 Matures to be about 12-15' tall and wide. Gives maximum fruit yield per square foot. Most of the fruit can be harvested while standing on the ground.
Standard & Unmarked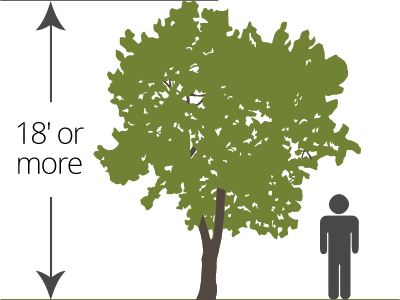 Matures to be at least 18' tall and wide. (Standard peach and nectarine trees mature to be 12-15' tall and wide.) A multi-purpose fruit and shade tree.
*Tree sizes may vary by variety.
---
Estimated Yield:
You'll want to choose the volume of trees needed to meet your needs based on your estimated consumption for whomever you are feeding. As you begin to plan, or even after you've planted certain varieties to get started, pay attention to what you're actually able to eat or use. This process will never be an exact science and may expand or contract over the years as your family grows, or your uses for the fruit changes. Here is a guide for what to expect for yield from fruit trees:
FRUIT TREES
The information below represents an average yield for fruit trees.
For berry bushes and nut trees, we recommend consulting the following guides:
Berry Bushes
Nut Trees
---
Harvest Time:
Do you want to choose varieties that harvest at different times all throughout the season so that you have a continual harvest for fresh eating? Or would you prefer a variety that produces mostly at once for ease of harvesting and preserving?
When reading product descriptions, pay attention to "Ripens/Harvest" section of the Characteristics to see if the variety will suit your purpose.

Pollination:

Our website notes recommended pollinators on each product description: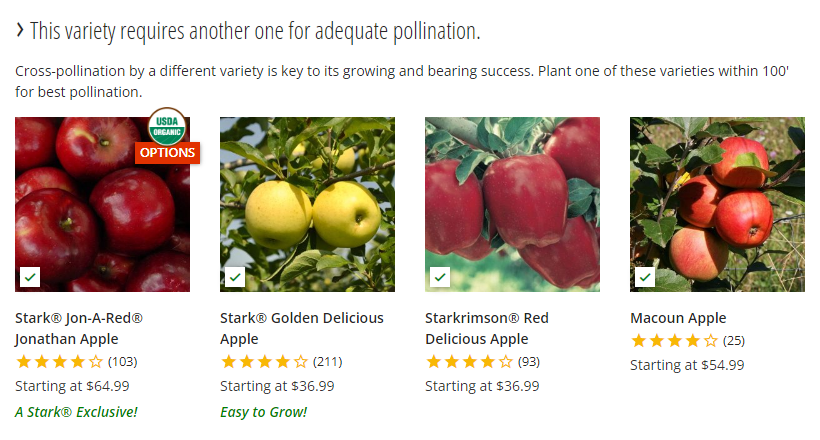 Curious to know more about how tree pollination works? Read all about fruit tree pollination, apple tree pollination, and pecan tree pollination
---
Maintenance Considerations:
You'll want to choose varieties that are resistant to the pests and diseases that are prevalent in your area. We recommend speaking to your extension agent to determine the specifics for your location. We note often in the product description which varieties are particularly resistant to the most common diseases or pests.
On our growing guide for each type of plant, you'll see a detailed list of care practices for the common pests for that plant type. See the full lists of growing guides below.
In addition to dealing with any pests and diseases, trees will need proper fertilization to grow a healthy fruit crop. Make sure you plan and budget to fertilize your trees.
You may also find the following articles on organic growing practices helpful:
Ideal Uses:
In addition to considering the pests and diseases, pollination needs and spacing needs of your chosen varieties, the last thing you may want to consider is taste and use. If you know you're going to be canning or storing, you'll want to choose varieties specifically suited to those needs. Our product descriptions are a great place to start!
---
We hope that this guide has been helpful as you begin to plan or work to expand your fruit production on the homestead.

Below, we've also listed all the growing guides for each type of fruit or nut trees and plants available through Stark Bros. As you are making your selections, you'll find a wealth of tips for how to care for that particular type of plant or tree.

And we're always here for you! Just give our local customer service agents a call, and we'll do our best to help you choose the best plants for your homestead.

Our active community on Facebook and Instagram is another great resource, and our favorite way to connect with you! Share your questions, or photos of what you're growing with us on your favorite platform today.

Happy growing!
Additional Homesteading Planning Resources:
---