Caramel Apples: Perfect Seasonal Snacks for Fall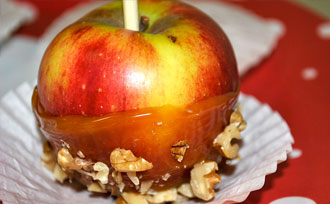 Snack Time at Stark Bro's
We were looking for something a bit simpler, so we bought our caramel pre-made. We then hand dipped our apples in the caramel and topped them with tasty complementary nuts. Here were our favorite pairings:
Our Granny Smith and Pink Lady apples provided the classic tartness to blend wonderfully with the caramel and nuts.
Jonathan apples like our Stark® Jon-A-Red® and the disease-resistant Jonafree, have just the right combination of sweet and tart flavors to pair well with caramel. Their texture is also easy on the teeth if you're looking for something that's not too hard to bite into.
Our Braeburn apple, the Stark® Braestar, impressed us with how well it went with caramel. It created the perfect amount of crisp in every caramel-nutty bite.

Our snack time is almost over, but before we go, we want to see what kind of caramel apple tips you have for us! What apples are your favorites to coat in caramel and which extras do you like to top them off with?
— Sarah D.
---
About the Author
Sarah 
grew up in sunny South Florida; but, despite her ideal location for year-round gardening, her own growing adventures really bloomed after she transplanted to Missouri. Keen on research and analytics, Sarah is always expanding her garden knowledge; but the real challenge (and fun!) is her experiences — in the dirt. Connect with Sarah personally on 
Twitter
.
Fall is a busy time of year for people who grow their own fruit or nuts. At Stark Bro's, we recommend that you take a moment to enjoy your efforts by turning your harvests into delicious, seasonal snacks — like caramel apples! Making your own caramel apples can be an elaborate event. Some enjoy making the caramel from scratch and harvesting apples and all the toppings, like almonds, pecans, walnuts and more, from trees in their own backyard orchards. This kind of process can be a fun and meaningful annual tradition for the whole family.