Cherry Scone Recipe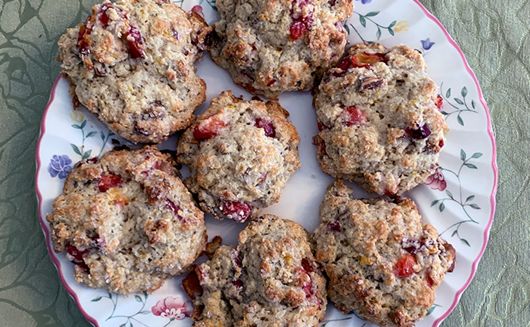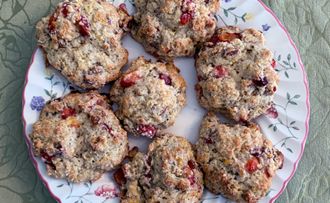 Once you learn the basics, you can sub out the ingredients to whatever you have in season or on hand, so the possibilities are endless. Blueberries + Pecans, Strawberries + Walnuts, Raspberries + Almonds. Dried fruit also works very well in these scones, so they're a great option for winter leftovers.

And like every truly excellent recipe, it didn't come from someone's blog or a fancy chef's kitchen… but the real expert… mom! Our digital marketing director Matt's mom made these with his fresh harvest of cherries and it was tested around the office to unanimous approval!
My Favorite Scones by Denise
Yields 12 scones
INGREDIENTS:

1 ½ Cup Flour
1 ¼ tsp. Baking powder
½ tsp. Baking soda
½ tsp. Salt
½ Cup sugar, ½ cup buttermilk
¾ Stick frozen butter
1 Cup pitted cherries (drained)
½ Cup chopped pecans
1 tbs. Orange zest
For topping: turbinado sugar or raw sugar
STEPS:
Preheat oven to 425
Pit cherries (we recommend this cherry pitter)
Combine dry ingredients including fruit and nuts.
Grate frozen butter into dry ingredients and mix with fingers.
Add buttermilk and mix with a fork until dough forms.
Roll and cut into wedges or drop by spoonfuls onto a cookie sheet lined with parchment paper.
Sprinkle with turbinado or raw sugar on top.
Bake at 425 for 12 mins.
Serve warm.
Happy baking!