Homemade Fruit Leather Recipe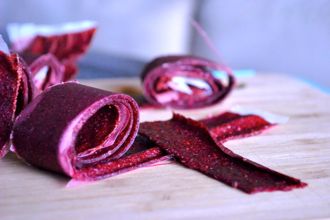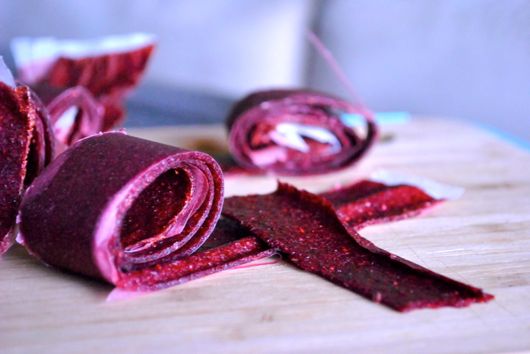 If you like making your own fruit snacks, then delight in this homemade fruit leather recipe. Enjoy these fruit strips with kids, family, and friends.
Ranging from sweet to tart, berries are nature's candy. They come in so many flavors and textures that are easy to mix and match. When it comes to enjoying berries (beyond eating them fresh), the options seem limitless. One snack you may be familiar with is fruit leather: dried fruit divided into snack-sized strips.
They can be found in the snack aisle of your local grocery store – but, if you prefer a little more control over the flavors and ingredients you eat, then you will delight in this homemade fruit leather recipe. These dried fruit strips are a great summer snack to make with kids, or to indulge in with friends and coworkers. See for yourself!
Mixed Berry & Mint Homemade Fruit Leather
What you need
3 cups berries*
¼ cup honey
¼ cup fresh mint leaves
1 whole lime
Parchment paper
*We used fresh strawberries and blueberries for this recipe! If you choose to use frozen fruit, allow it to thaw to room temperature prior to processing.
Directions
Preheat oven to 170ºF.
Wash berries and remove stems from mint leaves. Finely zest the peel and then juice the lime. You should have about 2 tablespoons of lime juice.
Put all ingredients (berries, mint leaves, honey, lime juice, and zest) into a food processor or blender. Blend until mixture is a smooth purée (about 30 seconds). Note: purée may contain seeds, especially depending on the berries you use. If larger fruit seeds are unwanted, take time to strain your purée before continuing.
Place parchment paper on a baking sheet and flatten smooth. Carefully pour purée onto parchment paper, spreading it thick and evenly with a spoon or spatula.
Place baking sheet into preheated oven. Bake for 6 hours, or until purée is no longer wet. Note: you may need to adjust baking time according to your oven.
When purée is dry, allow to cool to the touch and then remove from baking sheet, keeping parchment paper attached. With scissors, cut the fruit and paper in half (crosswise) and roll each flat half into a roll shape.
Cut these rolls into 2-inch sections. Serve.
Yields approximately 12 rolls (2 x 6-inch strips). Store any leftovers in an airtight container.