RECIPE: Spiced Persimmon Cake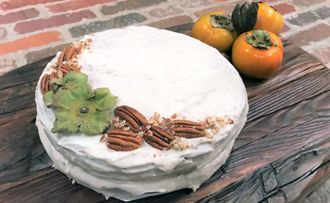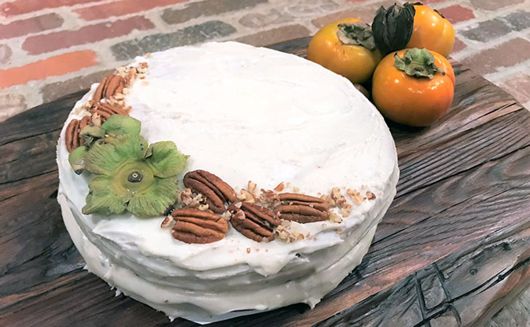 Grocery store persimmons really won't have the same incredible flavor that you'll get from growing your own. So if you live in growing zone 6 – 10 and you don't have a persimmon tree on your property yet, pick out the best variety to grow in your location so you can have this treat in abundance in just a few years.

Now that you've secured your future harvest, find a local farmer or a gourmet grocery store in your area for the best persimmons you can get your hands on in the meantime.

The recipe only calls for one persimmon, but I recommend buying a few to have on hand. A roasted Persimmon slice, a spoonful of creamy goat cheese and a salty cut of prosciutto on a slice of sourdough can't be beat for an appetizer!
We harvested beautiful pecans from our own orchards here at Stark Bro's for the garnish on the cake, but you can get creative with whatever you have on hand.
THE RECIPE:
1 ½ cups butter (room temperature)
1 cup brown sugar
½ cup granulated sugar
5 eggs
1 tsp vanilla extract

2 cups whole wheat flour
2 tsp baking soda
2 tsp cinnamon
Pinch of nutmeg

½ cup of milk
1 persimmon (Fuyu works nicely)

2 – 9-inch cake pans
Homemade icing (tutorial with recipe below) or store bought
I recommend King Arthur Stone Ground White Whole Wheat Flour as it's unbleached and maintains the nutrients in the flour.
For Buttercream Frosting I recommend following Recipes by Carina's tutorial/recipe. You could also make a cream cheese frosting or even a store bought if you want to keep it simple.

STEPS:
Preheat the oven to 350 °F
Finely chop the persimmon into smaller than bite sized chunks (roughly ¼ an inch cubes)
In your mixer, beat together your butter and sugars until soft and fully blended
Add eggs one at a time, beating thoroughly after each addition
Add vanilla
In a separate bowl, mix flour, cinnamon, nutmeg, and baking soda
Slowly add the flour mixture and fold in into the batter
Once fully incorporated, add in chopped persimmon
Butter the bottoms and sides of your cake pan (even if non-stick)
To thin out the batter, mix in milk as needed until the consistency is easy to spoon into your cake pan
Bake for 25 minutes, watching closely and testing with cake-tester or a toothpick (Make sure to adjust your recipe for your elevation or oven)
Let cool
To stack the two cakes, you'll want to trim the top of the cakes off until it's a roughly flat surface
Transfer to cake stand
Generously ice the bottom cake, face up
Add the second cake face down onto the icing, leaving the smooth bottom surface on the top to be iced
Thoroughly ice cake top and sides
Add garnishes
Some experts believe that persimmons have the best taste when harvested after the first frost, and they can be stored in the fridge for up to a month, so this recipe will easily carry you into the winter season for any celebration or just to enjoy a cool season treat.