Blackberry Ricotta Cake Recipe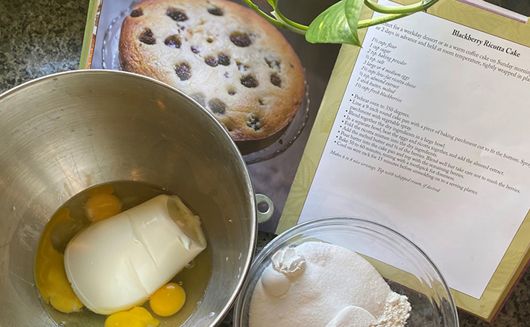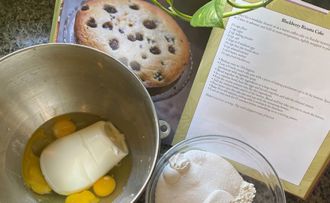 We took the Blackberry Ricotta Cake recipe for a test drive, and the results were outstanding. Easy to follow, and flavor that satisfied great grandpa down to the toddler at our family table!
Perfect for a weekday dessert or as a warm coffee cake on Sunday morning. The cake can be made 1 or 2 days in advance and held at room temperature, tightly wrapped in plastic wrap.
1 ½ cups flour
1 cup sugar
2 tsp. baking powder
½ tsp. salt
3 large or 4 medium eggs
1 ½ cups low-fat ricotta cheese
½ tsp. almond extract
1 stick butter, melted
1 ½ cups fresh blackberries
Preheat oven to 350 degrees.
Line a 9-inch round cake pan with a piece of baking parchment cut to fit the bottom. Spray the parchment with vegetable spray.
Blend together the dry ingredients in a large bowl.
In a separate bowl, beat the eggs and ricotta together, and add the almond extract.
Fold the ricotta mixture into the dry ingredients.
Add the melted butter and ½ of the berries. Blend well but take care not to mash the berries.
Pour batter into the cake pan and top with the remaining berries.
Bake 50 to 60 minutes, testing with a toothpick for doneness.
Cool on wire rack for 15 minutes before unmolding on to a serving platter.
Makes 6 to 8 servings. Top with whipped cream, if desired.
---
Find more award-winning recipes in the cookbook: