Preserving Blackberries in Alcohol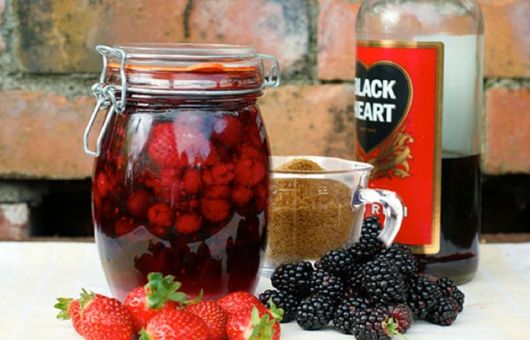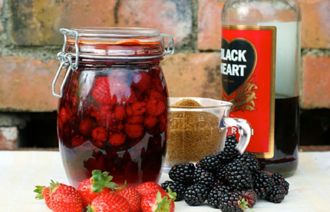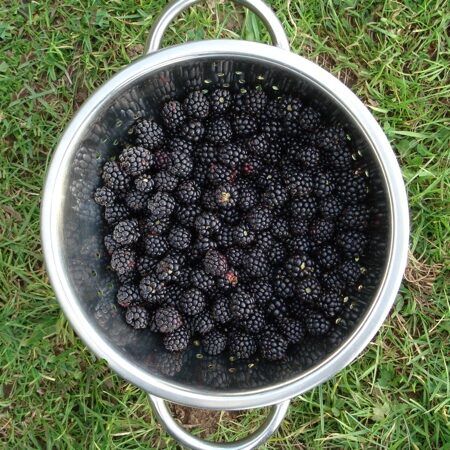 Preserving blackberries in alcohol for an edible cocktail high in antioxidants. Make your own bachelor jam and serve a Sassy Russian at your next party.
Have you ever had an edible cocktail? With lots of antioxidants in it? What better way to get a serving of fruit (yes, it counts) than a spoonful of delectable whole blackberries, preserved in your favorite adult spirit... kind of like "berried" treasure, isn't it?
Sometimes called "bachelor's jam" (because it requires no knowledge of cooking and has alcohol involved), it's an easy way to preserve your harvest without the effort that accompanies the canning process. You're not hermetically sealing the container, however, meaning you should refrigerate your macerated berries to be on the safe side.
Recipe: Preserving Whole Blackberries in Alcohol
Ingredients:
2 parts blackberries* (a mix of blackberries and raspberries is even better)
1 part sugar (brown sugar gives the berries a nice richness and dissolves more easily)
Enough 80- to 100-proof dark rum, brandy or vodka to cover the fruit by at least one inch
*We especially like the Chester blackberry variety for its big size and complexity of flavor. They're the best-tasting late-season blackberry and can often be picked into September.
The Basic Steps:
Quickly rinse the berries, drain and pat dry with paper towels. The alcohol will quickly dispatch any bacteria as long as no air reaches the fruit. Discard any berries that display obvious mold or are crushed.
Loosely place the fruit into a clean resealable jar, about ¾ full. Pour the sugar over the fruit, then pour in enough liquor to cover the berries by at least one inch. Let sit for 3 months in a cool, dark place (a refrigerator is really best), then enjoy.
Blackberries preserved in alcohol are also a low-effort, glamorous gift — unless you decide to keep them all for yourself, in which case you might try some of these inspired ideas, modified from an article by Melissa Clark, a New York Times food writer:
CAKE GLAZE Mix the macerating liquid with enough confectioners' sugar to make it thick and creamy, but still runny enough to pour, then spoon it over simple cakes.

COBBLERS, CRISPS AND PIES Mix pieces of macerated fruit with fresh fruit.

FRUITY APERITIF Put a piece of fruit and a little of its liquor in the bottom of a flute and top with sparkling wine.

HAIR-OF-THE-DOG MUFFINS Add diced fruit to your favorite morning muffin recipe (most, if not all, of the alcohol will evaporate during baking).

TIPSY TRIFLE Use pieces of fruit in a traditional custard-and-cake trifle.

UPSIDE-DOWN TIPPLE CAKE Sprinkle a well-buttered cake pan with brown sugar, then layer with slices of drained fruit. Cover with your favorite butter cake batter and bake until done. Serve with cream whipped with a little of the fruit liquor.
---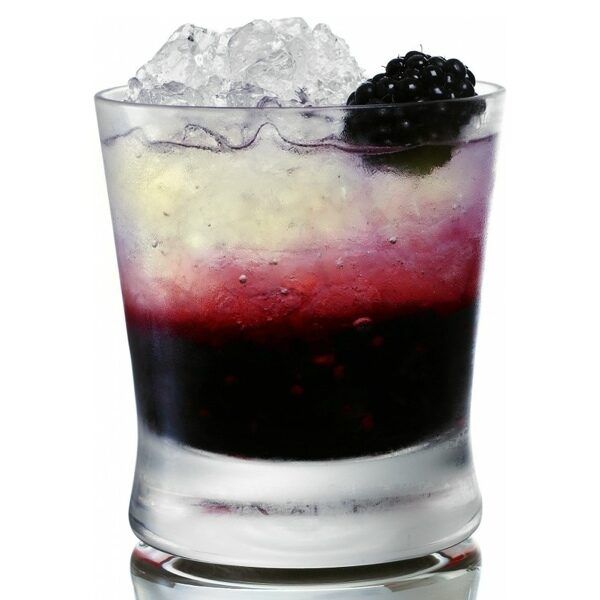 Or serve this at your next get-together:
Sassy Russian (1 serving)
4 of your preserved blackberries, plus 1 for garnish
1-1/2 ounces superior-quality vodka
3 ounces lemonade, preferably homemade
Muddle the four blackberries in bottom of a highball glass. In this order, add: ice, vodka and lemonade. Do not stir. Garnish with the remaining blackberry.