Fabulous Fruits: Apple-Raisin Pie Recipe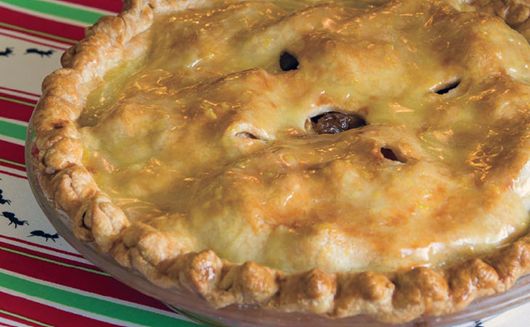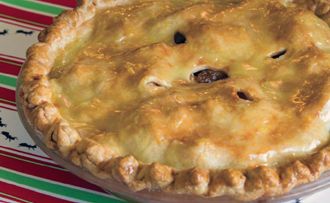 October is National Apple Month ... feel free to indulge in this award-winning Apple Raisin Pie, one of the many ways you can enjoy your apple harvest.
For home orchard enthusiasts, the perennial dilemma is: "What on earth do I do with all of this fruit?" Immediately thereafter, the question is: "And why isn't there a good, all-around cookbook that shows me what to do with all of this fruit?"
As we celebrate our 200th anniversary as the world's oldest fruit-tree nursery (in business since 1816), we thought it was about time to fill that void. We asked the local food writer and chef of the Eagle's Nest Winery & Bakery, Karen Mitcham-Stoeckley, to write one for us.
Fabulous Fruits showcases fruit in every course, from appetizers to entrées, and, most certainly, desserts. Precious few cookbooks put fruit out front; it's usually relegated to the sweets chapter at the end, or appears as a beverage-garnish afterthought. This book is an authoritative compendium of fruit-forward recipes, some elevating humble apples to new heights, and some introducing fruits like deliciously nutrition-dense goji berries to the uninitiated. All of these recipes call for fruits that can be home-grown from the wide variety of trees and plants we carry at Stark Bro's.
Here is the Stark Bro's customer recipe that won First Place in the Dessert category!
Mrs. Miller's Apple-Raisin Pie
This delicious recipe was submitted by Mr. Graham Murdock of Springfield, Illinois. The associates at the Stark Bro's Garden Center in Louisiana, Missouri tended to agree with the selection as a First-Place winner when presented with the pie from the photo shoot. Bon appétit!
Preparation Time: 15 minutes
Baking Time: 45-50 minutes
Yield: 6-8 servings
Ingredients:
Your favorite pastry recipe for a two-crust pie
1 cup white sugar
4 rounded TBS. flour
⅛ tsp. salt
¼ tsp. nutmeg
½ tsp. cinnamon
⅛ tsp. ground cloves
7 apples*, peeled and cut into slices
⅓ cup raisins (I prefer golden raisins)
1½ TBS. fresh orange juice
1 TBS. pure maple syrup
1 tsp. molasses
2 TBS. butter, softened
*A combination of Honeycrisp™, Golden Delicious and Pink Lady is excellent
Glaze:
1 cup confectioners' sugar
2½ TBS. fresh-squeezed orange juice
1 rounded tsp. fresh grated orange peel
Directions:
Preheat oven to 400 degrees F.
Prepare the pastry dough, line a 9-inch pie pan with 1 rolled crust and refrigerate.
In a large bowl, combine the sugar, flour, salt, nutmeg and cinnamon. Blend well.
Mix in the apples, raisins, maple syrup and molasses.
Turn mixture into the pie crust. Spread evenly, creating a slight mound in the center.
Dot with the butter and sprinkle with the orange juice.
Top with second rolled crust and crimp the edges together, folding the bottom crust over the edge of the top crust as you crimp. Use either aluminum foil or a pie-crust ring to cover the edges and prevent over-browning.
While pie is baking, make the glaze by blending all glaze ingredients in a small bowl.
Bake the pie 40 to 45 minutes, removing the foil or ring about 5 minutes before the pie is finished baking.
Remove from oven onto a wire rack. Cool for 5 minutes then spread the glaze evenly over the top of the pie.
— Excerpted from Fabulous Fruits: Recipes for every season, by Karen Mitcham-Stoeckley and Curt Dennison. Acclaim Press: 2015.
---
Find more award-winning recipes in the cookbook:
Find More Apple Recipes: